Ah yes, the traditional banana hurled at a black player. Euro 2012 is officially on!
The potassium missile came from the Croatian fans, who we had thought were pretty chill. It happened during yesterday's match with Italy, who have a couple of black players, including Mario Balotelli, who specifically threatened to kill any banana-throwers. Details aren't clear—UEFA is looking into it after a photographer snapped a shot of a steward removing the banana, although they haven't received any official complaints.
It's been a busy week. We've already had
• "Around 500" fans making monkey noises at the Dutch team during a training session.
G/O Media may get a commission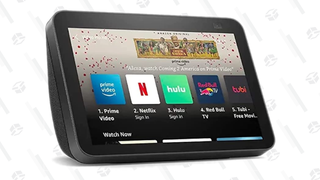 • Russia and Poland supporters fighting in the streets, then fighting the riot police sent to break them up.
• Russian fans making monkey noises at Czech defender Theodor Gebre Selassie.
• Spanish fans allegedly singing monkey chants against Balotelli on Sunday.
• Croatian fans fighting with police in Poznan before the Ireland match.
• Croatian fans setting off flares and throwing trash onto the pitch during their match against Ireland. (The Croatian FA was fined €25,000.)
• Croatian fans jeering and whistling during the playing of Italy's National Anthem.
• Croatian fans making monkey chants at Balotelli yesterday.
In summary: what the fuck, everyone?