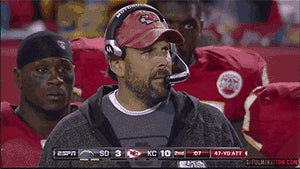 The Todd Haley and Ben Roethlisberger relationship did not get off to the best of starts. Haley was hired to replace Roethlisberger-favorite, Bruce Arians, and then proceeded to never talk to Big Ben. Six weeks into a 2-3 season and Roethlisberger is returning the fuck you. The Pittsburgh Tribune-Review's Joe Starkey had an impromptu question and answer session with a finger-pointing Roethlisberger.
"Haley's offense is not a big-play offense," he said. "It's kind of a dink-and-dunk offense."
Hmmm. That was the first time I'd heard Roethlisberger use the d-and-d phrase. When others had, he'd brushed it aside.
Our next exchange was more eye-opening.
Me: "Is there room for more quick strikes?"
Ben: "We did that last week (82-yard pass to Mike Wallace)."
Me: "Right, but you never went back to it."
Ben: "There's a guy calling the plays. That's on him."
This is a wonderful development for an otherwise run-of-the-mill October Sunday. The Steelers play the Bengals tonight on NBC, allowing plenty of time for this to simmer and slow-cook into a full-blown shit stew. And oh, what a welcome shit stew it is. We have been without a Todd Haley meltdown for so long I feel less alive, less vibrant than during the salad days of Kansas City. Look at that man up there, yelling "fuck you" at a colleague. When does something like that ever happen without Haley? It's been far too long.
Our only hope is that Roethlisberger's clumsiness has stirred the beast because, let's be honest, Pittsburgh-Cincinnati is not exactly doing anything for anyone. How will Todd Haley react? Maybe he doubles down on the fuck you and calls all running plays. Maybe he's matured and handles the whole thing in-house with Roethlisberger. Or maybe he pulls Roethlisberger for Batch, calling only flea flickers after the switch, gets fired at halftime and gives an interview with Michele Tafoya saying "I only dink and dunk because I love double D's" and thrust his hips at the camera one final, glorious time.
It's a tossup.
Starkey: Big Ben speaks truth about offense [Pittsburgh Tribune-Review]