Some primo running in this one—and actually some primo passing too, and generally good football playing all around. It's like Sean always says (this morning), "it's these god-awful looking games that become the most compelling." This one wasn't the most compelling, but if you like long runs to the end zone, well, do I have some GIFs for you.
Chuh Chuh: First score came on this punt return from Pacman Adam Jones:
Good News: Trent Richardson—that's something to get excited about, Browns fans! Just wipe the tears away for long enough to watch this. He put the Browns within seven on this absurd spinning twisting run into the endzone, for one of the plays of the day so far:
G/O Media may get a commission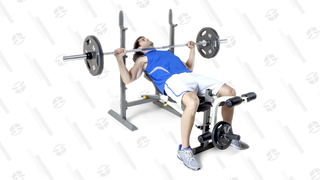 10% Off
Marcy Folding Weight Bench
Yeah, that was cool. Not enough to win it, but both Brandon Weeden—out from under the flag, finally—and Trent Richardson showed a lot in defeat. Weeden ended the day with a passer rating about 23 times higher than last week (along with 322 yards and two touchdowns) and Richardson ran for 109 yards.
The Browns couldn't recover an onside kick to make a final drive, and fell to 0-2. The Bengals are 1-1. But hey, let's watch that Trent Richardson catch-and-run again. Sweet.