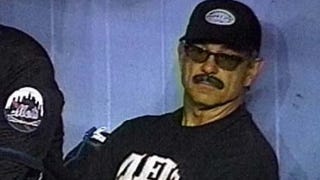 Logically, as one man accused of presiding over a boozy clubhouse leaves town, one accused of presiding over a gang of loafing potheads enters.
He's been out of MLB for a while. Valentine was shitcanned after the stonery 2002 Mets finished 75-86, and he managed Japan's Chiba Lotte Marines from 2004-2009. He then left Japan and returned to Connecticut, where he opened a sports bar and took a low-level municipal government position. This year, he replaced Joe Morgan on Sunday Night Baseball and turned up all over ESPN.
And now he's the manager of the Sox, per ESPN's Gordon Edes. This is gonna be a fun year in Boston.
Top image demystified here.