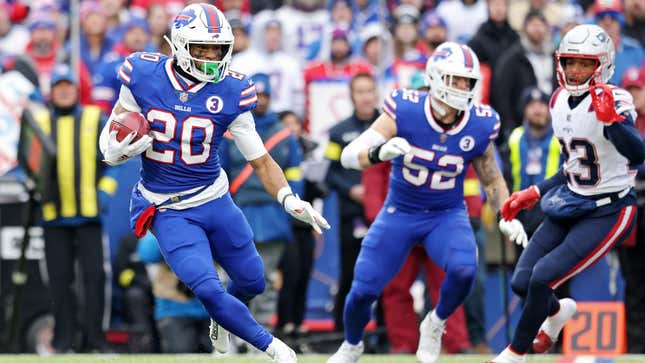 We're all familiar with the cliche that is always brought out during special sports moments. It's some form of, "you couldn't write this script." That thought surely went through the heads of the many millions of people who watched the opening kickoff of the Buffalo Bills and New England Patriots' Week 18 matchup, and that includes the NFL social media team after Nyheim Hines took the opening kickoff back for a touchdown. The Bills' first play after their Monday Night Football matchup against the Cincinnati Bengals was suspended after Damar Hamlin went into cardiac arrest on the field.
Not only are variations of that sentence overused, it's also not true. Real live events are changed all the time so that a scripted product can elicit the maximum emotional response from the audience. Unlike in the memorable Disney film Remember the Titans, T.C. Williams High School did not win the State Championship by scoring a touchdown on a double reverse with the quarterback as the lead blocker. They won that game 26-0, and also played against a completely different team than the one in the movie.
So in reality, a scene like the one on Sunday in Buffalo is absolutely one that could be typed into a Final Draft document. After a rousing national anthem performance by Janae Longo, the Bills were set to receive the game's opening kickoff. The players all had No. 3 patches on their jerseys to honor Damar Hamlin. Bill Belichick was one of the many people who wore a "Love for Damar" shirt on Sunday. Hamlin has received many prayers, well wishes, donations to his toy drive, and even a call from the President of the United States.

When the game kicked off, Hamlin got to experience a joy unique to the unscripted world of professional sports as Hines scooted up the sideline, and then leaped into the warm embrace of Bills mafia with several other teammates.

I am not with Hamlin so I cannot tell you exactly how that moment made him feel. However, I do know that a smile appeared on my face as Hines raced into the endzone, and judging from Hamlin's tweet, that score put him in a happy place as well. Yes, that moment could very easily be written into a script, but to watch that happen in real time is truly unforgettable.