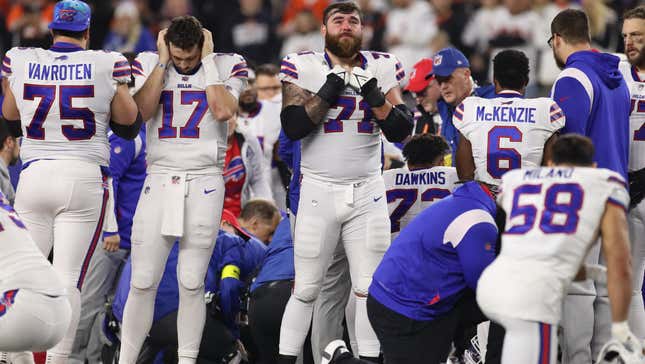 There was a reason for spirits to be higher in the Buffalo Bills facility than they had been in recent days. The team found out that Damar Hamlin was conscious and able to communicate.

The Bills or Chiefs will win the Super Bowl | Agree to Disagree
Hamlin couldn't speak, but he was able to hold hands with his loved ones and write down what he was thinking. With the news of Hamlin's improved condition, and having spoken to his father earlier that day, Sean McDermott and Josh Allen spoke to the media for the first time since Monday night's frightening scene.

What they witnessed is still raw, and there were moments when both men had to pause before their emotions overwhelmed them in front of the media. McDermott thanked every person he could think of who provided assistance either in the moment or in the minutes and days since.

Both men were clear that it has not been business as usual with the Bills this week. The players have been in deep reflection and have leaned on each other both emotionally and physically in recent days. However, Thursday's news significantly lifted the spirits of the entire organization. When Hamlin first woke up, the doctors said that he wanted to know who won the game.

"We heard that news this morning and there's nothing that could have been told to us to bring our day down," Allen said to the media. "We're extremely happy for him and his family. We just wanna love up on him. So the next chance we get, I don't know when it's gonna be, if we get to see him anytime soon but it's gonna be awesome."
While the team is in a better headspace, they still have to deal with one of the toughest parts of life on and off the football field. The Bills have to get back to work. There is one more game remaining on the regular season schedule, and after that comes the playoffs.

Damar Hamlin's father spoke to the team
However, they did receive some much-needed words of encouragement to get the motivation to properly focus on football. Actually, it was more of an order than it was a pep talk.

"Mario [Damar's father] talking to us, as a team, and the things that he kind of told us, and really didn't tell us he demanded us," Allen said to the media. "You can't not honor his request to go out there and charge forward to the best of our abilities."

That is the current state of the Buffalo Bills. They received some news that they had been hoping and praying for. Their teammate, who they witnessed receiving life-saving care on Monday, has opened his eyes and moved a body part. That teammate's father wants them to take the field like the professionals that they have been all season.

It's going to be an emotional Sunday at Highmark Stadium in Orchard Park, N.Y. There will be many cheers, but there will also certainly be some tears as well. It won't be the typical scene for an NFL team in the hunt for the top seed in its conference playing its final game of the season at home.

That day can sort itself out when it arrives, but for now, Damar Hamlin is conscious. That is a reason for happiness to stretch from Niagara Falls all the way to San Diego.