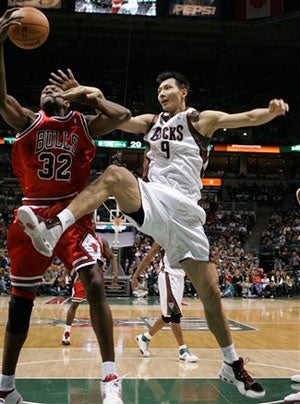 • YiHarmony — Well, it certainly doesn't look like Yi Jianlian figured out how not to foul people during games. The waist-high kick is frowned upon, I'd imagine, no matter how high the wall is around your country. But he was only whistled for three fouls in 33 minutes, which enabled him to score a respectable 16 points. Michael Redd added 27 in a 78-72 win over the 0-3 Chicago Bulls. At this juncture, the Bulls best figure out who else to send over to acquire Kobe Bryant. Perhaps they can send all 12 players to the Lakers for Kobe and his 11 teammates. Maybe then Bryant will be satisfied with who else he's playing with.
• I'm The Wiz! Everybody Beats Me! — Gilbert Arenas only had 10 points in a 94-82 loss to the Orlando Magic. His ice sculpture could have scored 13 at least. Hedo Turkoglu had 25 points and Dwight Howard had 17 points caught 15 shots-that-didn't-score.
• More Like Bronze State! Hoch Hech! — It seems so long ago when Golden State captured the interest of non-NBA fans by blindsiding the Mavericks in the first round. They can't play Dallas every game in the regular NBA season, and because of that they may struggle. Utah rolled up 133 points on them, paced by Deron Williams' 30 and Mehmet Okur's 28. Golden State only scored 110, led by Al Harrington's 38.
• We Should Fire Van Gundy More Often — The Houston Rockets and Portland Trail Blazers got together and chose to play a game, but with Eastern Conference rules. (Rule A-01: Point totals exceeding 90 will be null and void.) Houston almost broke that rule, but stopped one shy of the limit in an 89-80 win over Portland. Yao Ming scored 21 and Tracy McGrady had 20. Brandon Roy led the Trail Blazers with 23, and even though Portland's 0-3, so are the Sonics, and they have their first round draft pick. So what's their excuse? Huh?