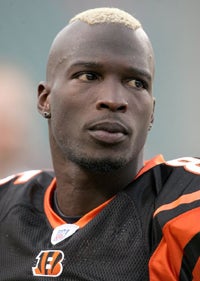 As many have pointed out before, the vast majority of hardcore NFL fans have never attended an actual game in person. Factors include the rarity of games, the high ticket expense and the fear that someone in a dog mask will steal your wheelchair.
Well, this weekend, we're seeing our third, but our first under an actual sky (two dreary outings in the old TWA Dome in St. Louis). We'll be in Cincinnati, taking in the Bengals-Browns matchup and doing what we can to keep our distance from Carson Palmer's knees.
We're excited to go, and not just because of the game: It appears your friend and ours Chad Johnson is hosting the world's largest chicken dance in Cincinnati this weekend. No, seriously: He really is. Past World's Largest Chicken Dance leaders include — and we hope you're ready for this cavalcade of fame — Weird Al Yankovic, Verne Troyer, Tony Orlando (without Dawn), Vince Neil and Eddie Money. And this year it's Chad Johnson. And we will be there. Sometimes, the fates shine on the weary human race.
Chad Johnson To Lead Chicken Dance [The Fanhouse]