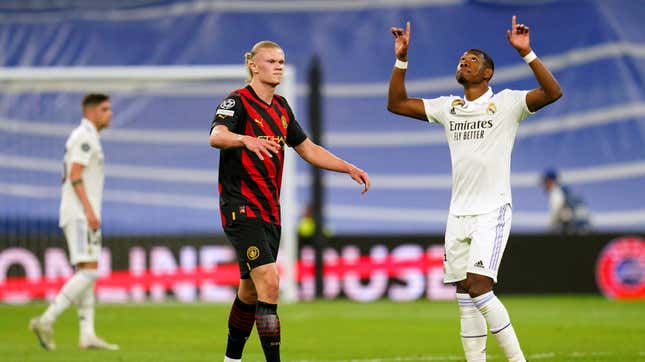 When you've been as dominant in the Champions League as Real Madrid have for the past decade, or as dominant in the Premier League as Manchester City have, you can convince everyone that whatever you do is part of the plan, part of a higher genius we can't quite understand. It must be, otherwise, how do they both keep winning? If luck is any part of it, the universe only becomes colder and more confusing.
Can Liverpool Win The Quadruple? | What You Need To Know | FA Cup
Sure, in yesterday's Champions League semifinal first leg, Madrid would have expected to have to defend for long stretches. No one is going to dominate the ball against City, and Madrid's midfield containing the AARP legs of Luka Modrić and Toni Kroos (as brilliant on the ball as they can be) was never going to try to press City high up the field. They were going to have to bunker down at times. But the first 20 minutes of yesterday's match were pretty excessive. This momentum chart on FotMob gives you some idea of just how pinned Madrid were.
Madrid didn't have a shot at all in the game's first 36 minutes. They couldn't break through City's press at all, often turning the ball right back over and not only being pushed into their own half but just around their own penalty area. To the untrained eye, or to the un-Ancelotti-pilled eye, it looked like Madrid was getting their ass kicked up to their ears.
Ah, but this is Madrid. This is the Champions League. There's a black magic we can't understand, can't quantify, right? We've seen this before. What it looks like isn't what it is. It's never not part of the plan for Madrid.
This is the soccer observer version of, "I'm not owned!" But it's right to feel this way because…
Because for Madrid, it takes one Modrić flick that he really shouldn't be capable of at 37, one great Camavinga run, and a finish from Vinicius Jr. that would be best described as a sound cannon. All part of the plan.
You're lookin' at me, I'm lookin' at you…
And from there, the roles flipped. Madrid suddenly had most of the ball, City looked pretty jittery, and here was Madrid dusting themselves off after a rocky opening that they went through simply to up the degree of difficulty.
But this is the finished version of Guardiola's City, right? They're actually happy to cede control of the ball for stretches while now being convinced that doesn't mean ceding control of the match, no? That's how they just tore Arsenal to shreds just a couple weeks ago. It's how they turned Bayern Munich into paste. They can do this, they want to do this, this is their new style.
Except getting outshot from the time Vinicius Jr. scored to their equalizer 7-2 probably isn't the idea. Controlling the match without the ball means not giving up chances, doesn't it? Isn't this actually just being second-best?
Well, here's City's argument that it was all part of their plan too:
Kevin De Bruyne sees Vinicius Jr.'s sound cannon and raises an Armageddon meteor. I'm a sucker for any thunderbastard that only elevates off the ground due to the spin and velocity, not the angle it was launched. It's simply too powerful for gravity to get a hold of.
From there, the match was sort of the immovable object and irresistible force or some variation, as both teams were either too wary of getting lured into what they were sure was another trap from the opponent that may or may have not actually been set. City also seemed to tire, with Pep making no substitutions and have had the more taxing schedule leading into yesterday.
It is a better result for City, as they're heading home. While Madrid can rest the whole team on the weekend as La Liga is already decided, Guardiola's refusal to use any subs probably means he'll send out a heavily rotated team at Everton on Sunday even though they still have a title to clinch. We know which basket Pep's eggs are really in.
But Madrid have reached this status in the Champions League where no one can be convinced that anything has ever gone against their plans or wishes. They're Hannibal always ready to reach for his cigar until proven otherwise, and even then most of us won't believe it. But then, City are too now. Is there a GIF of two Hannibal Smiths pointing at each other?
---
Follow Sam on Twitter @Felsgate as he tries to convince himself that either Milan team would have a prayer against these monsters.