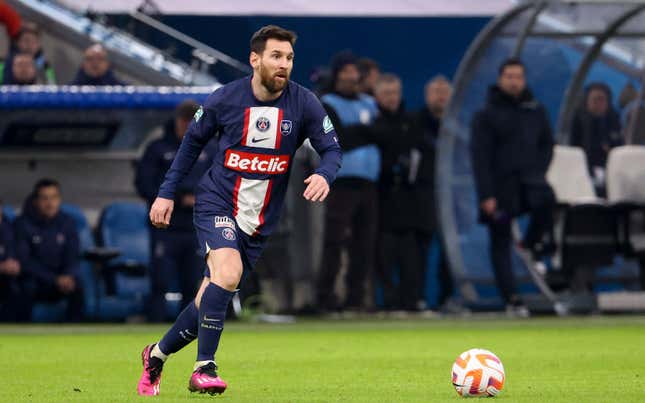 It only feels like the Champions League is late in returning for its knockout stage, but this is the normal time of year. What isn't normal is cramming a World Cup in between the group stages and the knockouts, which makes it seem like this season has already gone on forever even when most leagues are only at their halfway stage. The density has us all exhausted.

Can Liverpool Win The Quadruple? | What You Need To Know | FA Cup
Also having already white-knuckled our way through a World Cup means there's a little bit of shine taken off doing so again with the Champions League. Every year, this is normally the highest-pressure atmosphere, with international tournaments saved for the summer. This time, the Champions League is bumping up against the final acts of Argentina-Holland or the Final in our minds, and we may not be as blown away when PSG wet themselves in injury time of a second leg again (it'll still be funny as shit though).
So where are we? How did we get here? Is this our beautiful wife? Let us fill you in:
Isn't this just the usual suspects around again?
Yeah. Unless you consider Barcelona a usual suspect. Do the past two seasons discount them from that? That's a personal choice. Anyway, they're not here. And Juventus have basically pushed their nose through their brain given the ferocity of their faceplant both on and off the field. But other than them, yes, all four Premier League participants are in the round of 16, along with Munich, PSG, and Real Madrid.
So one of the usual suspects is going to win it, right?
Well, probably. But this time around there are more weaknesses than there have been. None of the usual crew looks unbeatable. PSG just got their ass handed to them in the league by Monaco after losing to Marseille in the French Cup. Neymar is bitching again, and Kylian Mbappé isn't healthy.
They also have Munich in this round, thanks to not being able to win their group over Benfica. Munich are the bookies' favorite at the moment, but their form in the Bundesliga has been, by their standards, kinda ropey. They drew three straight games before winning last weekend, and find themselves in an honest-to-goodness title race. They've missed not having automatic-goal Robert Lewandowski around, Sadio Mané has been ouchy, and they can find themselves unable to turn their possession dominance into tangible measures on the scoreboard.
Manchester City have their off-field issues as well, though Pep Guardiola would love nothing more than to turn that into some sort of rallying cry to finally get them over the hump in Europe. They tried that a couple of years ago, the last time they were under investigation (and this being a plural tells you a lot) and lost the final to Chelsea. On the field, City have not looked unstoppable either, with Erling Haaland putting up video game numbers and yet still being something of a wonky cog in the previously humming City machine. Their midfield has gotten a little old, and they can be countered at speed thanks to that and Haaland's presence depriving them of another in midfield.
Liverpool…well, let's not even talk about them. Chelsea are a whole new team from even the group stage and at the moment look like a bunch of ingredients that didn't congeal into a meal. If they can hang around long enough in the competition maybe they'll come together, but that's an actual, sizable if right now.
Real Madrid are getting dog-walked in the La Liga title race by Barcelona, and they've looked pedestrian in front of goal a lot. Karim Benzema isn't the force he was last season, and now there are rumors that manager Carlo Ancelotti may fuck off to take the Brazil national team job.
But doesn't that mean Madrid are going to win anyway because they're at their best when things are most messy?
Sadly, yes. Still, they're attempting to turn over that midfield that could get them out of any jam last season to a new generation, and it hasn't been a smooth process (the Fels Motherfuck magic, baby!). Shit, Eduardo Camavinga has been used more often as a left-back. Maybe they're holding Luka Modrić and Toni Kroos in reserve for the Champions League specifically, and with Barcelona disappearing over the hills in the title race they could focus on winning this for the 14th time. But there are holes.
So yes, they're going to win it.
Is there any hope for an outsider?
Yes, and thy name be Napoli. As covered heavily here, Napoli are the new heavy metal football on the scene. They're destroying Serie A, and could have the Scudetto in their pocket before the semifinals of the Champions League. They've got a sweetheart draw in the Round of 16 with Eintracht Frankfurt, and will see one of the big boys of PSG or Munich bite the dust (if you want to argue that another big boy in Liverpool or Madrid will also eat it, fine, but have you seen Liverpool this season?).
There is also the sense that this is the only shot this team will get to make some serious noise in Europe, as the vultures will come in the summer to lavish the club with cash while taking away their best players. Georgian winger Khvicha Kvaratskhelia (you can just call him "Kvaradona," as all of Naples does) and Nigerian striker Victor Osimhen are almost certainly headed for greener pastures after the season given the offers they could generate. It's now or never, and with the usual beasts having vulnerabilities, why the fuck not?
Benfica would have at least been on the "worth watching" list before they sold Enzo Fernandez to Chelsea, but they also have a favorable Round of 16 draw against Club Brugge. And once you're in the quarters, just about anything can happen.
Any other names worth keeping track of?
With AC Milan's car coming apart this season in a true Daffy Duck-like fashion, Rafael Leão probably isn't long for the San Siro either. They'll be facing another basket case of a team in Spurs in the Round of 16. Only Tottenham could go from deservedly beating City at home one week to getting their dicks knocked in the dirt by Leicester City the next. Anyway, Leão has been in Italy what Vinicius Jr. has been in Spain, a terrifying left-sided, right-footed forward who tears defenses apart with his direct dribbling and speed. He'd been connected to Chelsea forever, though, with their recent spree, there may not be room for him anymore. Still feels like he'll be moving on to bigger and better soon.
Jamal Musiala is Munich's and Germany's hot new thing, and he's been the best player on Bayern in a season where a lot of their vets have gone off the boil a touch. Can play about six different positions and is a ballet dancer with the ball at his feet around or in the opposition penalty area, wriggling free to get himself open for clear shots or to set up a teammate.
There's also Dortmund's Jude Bellingham, whom you've probably heard of or seen if you have a Liverpool supporter in your life as he'll be at the center of an altar they have built in their living room, praying to nightly in the hopes that he'll save the Anfield side from the fresh hell they're careening into. He pretty much single-handedly dragged Dortmund out of the group stage with four goals and an assist, and that's from midfield. He is an entire midfield onto himself, and is only 19, and has City, Madrid, and Liverpool doing all sorts of unspeakable things for the right to splurge some $170 million on him in the summer.
So come up with your excuses to duck out of the office early on Tuesday and Wednesday afternoons (if you're even still going to the office), and get ready to deal with the sound of Micah Richards laughing to plague you all hours of the night, and let's kick this pig.
Follow Sam on Twitter for barely coherent footy thoughts @FelsGate