The last day in the Premier League wasn't for the faint of heart. With 36 goals scored, today was the highest-scoring final match day ever. But while just about every other English side scored goal after goal, Chelsea, Arsenal and Tottenham were each entangled in nail-biters to see how their places in the top four, and with it, qualification in the Champions League, would shake out.
Chelsea, in third place with 72 points, and Arsenal, in fourth with 70, would've been through with a victory. Fifth-place Spurs were just a point behind Arsenal, and needed a win paired with a Gunners draw or loss to finish fourth and qualify.
The Blues did their part, beating a tough Everton side at home, 2-1, to wrap up third place in the league when Spanish striker Fernando Torres scored in the 76th minute. So all eyes shifted to Arsenal, playing away at Newcastle, and the Spurs hosting Sunderland.
The first half of both matches ended scoreless, but Arsenal's faithful couldn't have been happy about how their team was looking. Arsenal always have a rough time at St. James' Park, and they never really threatened in the first half. Thy were actually pushed back into their own territory, and as time passed, Newcastle looked more likely to score. Midfielder Hatem Ben Arfa had a strong first half, making winding runs through the midfield and into dangerous areas, and Toon striker Papiss Demba Cisse looked dangerous.
G/O Media may get a commission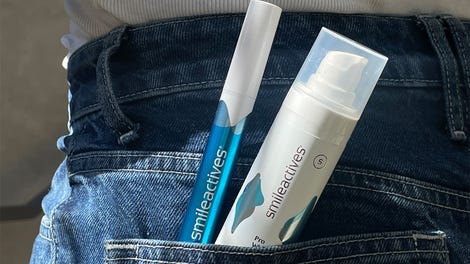 58% off
Whitening Powerhouse Pen & Gel Duo
Spurs, meanwhile, had Sunderland in the woodshed. The Black Cats were missing players due to injury, card limits, and team suspension, and they were all over the place defensively, disorganized and overmatched. Spurs had pressed Sunderland back to their own goal posts and controlled almost all of possession, but couldn't seem to break through. Totteham's best player and season savior, Gareth Bale, was pulled down in the box in the 20th minute, but the ref didn't call the foul. Bale was booked for diving, but it was a clear penalty. No matter; at half, it was 0-0.
Arsenal drew first blood in the second half when Theo Walcott sent a free kick into a tangle of players in the box. Gunners forward Lukas Podolski won a header that floated toward goal, and centerback Laurent Koscielny was able to lay out to get a boot on the ball to send it past the Newcastle keeper. In the 52nd minute, Arsenal led, 1-0.
Spurs kept attacking, but for a while, it felt like the team so well-known for choking down the stretch in the past would come up short once again. Tottenham had almost 70% of possession throughout the game, and they took an obscene 35 shots, but they couldn't break through. In one scramble in front of the Sunderland goal, the ball hit the post twice and was cleared off the line before the Black Cats were able to kick it to safety. In the 75th minute, Sunderland midfielder David Vaughan was sent off for an atrocious slide tackle, which meant Spurs would play with a man advantage for the rest of the match. Still, the winning goal didn't come, until the 89th minute.
It was Bale, again, of course, scoring another impossible goal that somehow has become his trademark. He received a pass on the right, about 25 yards out. The defender tried to push him to his weaker right foot, but Bale hesitated, took a long touch to the center to free up his left, and bent a perfect shot to the far top corner.
What's alarming about the goal is that no one was surprised he did it. He's been scoring late, outrageous goals all season for Tottenham to keep the overachieving Spurs in the Champions League race. It's why he won multiple Premier League Player of the Year awards this season, and why he's been recently touted as one of the best players in the world.
Still, Spurs needed Newcastle to draw Arsenal to finish fourth. And after Bale's goal in London, Newcastle seemed eager to play the spoiler, throwing men forward in the four minutes of injury time. Walcott had a chance to put the match away, but he hit the post, and Arsenal were on the back foot for a few nervy minutes until the final whistle finally blew. When it did, Arsenal players celebrated fourth place and the Champions League qualification with their traveling fans as if they'd just won the Premier League. They hadn't. They did, however, finish in the top four after being in 10th place in December. After losing to Spurs in early March, the Gunners went on an 11-match unbeaten streak to end their season.
Spurs, meanwhile, completed their best season ever, finishing with 72 points, but still ended in fifth. Tottenham didn't choke this time, and through Bale, always seemed able to steal a point or two at the end of matches. But in the end, it didn't matter.
So what happens now? Chelsea finished third, and will float right through to the Champions League group stage. They also have a reported £100 million to spend this summer as they try to rebuild and overtake United. Arsenal, in fourth, is in the Champions League, but will have to navigate the knockout stage in order to go the group stage. We've heard for months now that manager Arsene Wenger will have £70 million to spend, and the CL berth means that he'll ostensibly be able to use the funds to buy some of the world's best players.
For Spurs, the future looks a little cloudier. They're back in the Europa League after a disappointing final day, but manager Andres Villas-Boas pledged to spend freely in the summer to keep pace with their top-four foes. Their main problem may be at White Hart Lane, though. Spurs offered an Bale a lucrative contract extension prior to the Sunderland match with both Manchester United and Real Madrid circling for the player. He loves Spurs, by all accounts, but there are still conflicting reports about where he's signed the extension, or if his signature hinged upon Champions League qualification. We'll find out soon enough where his future lies.
Elsewhere, Manchester City also lost to Norwich, 3-2, because City are hilarious, and Manchester United drew West Brom, 5-5, in Sir Alex Ferguson's last match as United manager. We also saw United's Paul Scholes, Liverpool's Jamie Carragher and Stoke City's Michael Owen hang up their boots today. Legends, all of them.
So...that's it for the Premier League season. Manchester United, Manchester City, Chelsea and Arsenal round out the top four. Fifth-place Spurs and mid-table Swansea qualified for the Europa League, along with Wigan, who became the first team ever to win the FA Cup and get relegated to the Championship in the same season. They did both in the same week. Reading and Queens Park Rangers will be joining Wigan in the second division.
Next Saturday, Bayern Munich play Borussia Dortmund in this year's all-German Champions League final. And after that, of course, is the best offseason in sports.