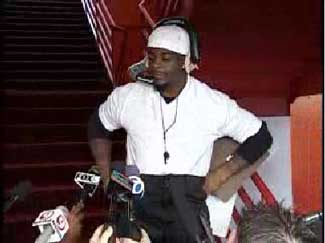 Ron Mexico might be going through a particularly difficult time right now, but it's worth noting that he has one significant booster: Deadspin Hall of Famer Clinton Portis. He'd just like you and your ilk to leave Mr. Vick and his puppies alone.
"I don't know if he was fighting dogs or not, but it's his property, it's his dog," Portis told WAVY-TV. "If that's what he wants to do, do it. I think people should mind their business."
We agree absolutely, and not just because we desperately would like to see Coach Janky Spanky plan out dogfighting strategy. Though we would, desperately.
Clinton Portis: Michael Vick Did Nothing Wrong [The Fanhouse]
Hall Of Fame Inductee: Clinton Portis [Deadspin]