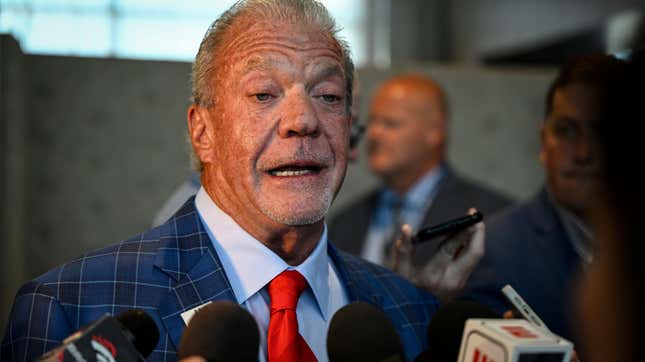 Indianapolis Colts owner Jim Irsay is back at it on Twitter, stirring up controversy with one of his tweets. In a recent post, Irsay listed his top five NFL players of all time and left out a certain former Colts quarterback — Hall of Famer Peyton Manning — and only included two QBs.

Black Quarterbacks = Big NFL Ratings | The SEO Show
"On my list of Top 5 Greatest NFL Players of All Time, in our 103-year History… I have the Top 5 as 1) Jim Brown, 2) Tom Brady, 3) John Elway, 4) Deacon Jones, 5) Reggie White."
This tweet was posted by Irsay not long after the announcement of the passing of NFL legend Jim Brown. While Irsay's timing is interesting, many of his generation have long held Brown in such high regard. So, Irsay praising Brown as the GOAT isn't all that shocking. Two defensive players on his list might be a bit out there, but where fans see the biggest flaw is omitting Manning.
Manning vs. Elway
That doesn't mean they're correct, but Manning did play most of his best years in Indy for Irsay. Brady is a no-brainer, but John Elway over Manning stands out like a neon green highlighter. When you really think about it, though, Elway is the one who got away from the Irsay family in the 1980s after refusing to play for the organization when they were in Baltimore.
Let's not get it twisted, Elway was and is an all-time great, but some would argue that he was never the best player or QB in the NFL during his 17-year career. The 80s were dominated by Joe Montana (who isn't in Irsay's top five), who won four Super Bowls, three Super Bowl MVPs, and two regular season MVPs. The mid-90s were dominated by Brett Favre winning three consecutive MVP awards and Troy Aikman leading the Dallas Cowboys to three Super Bowls in four years. Dan Marino was always considered as having the most arm talent, and it's always felt like Elway was usually bringing up the rear, no matter how well he played.
Of course, this is Irsay's opinion, but Manning did win just as many Super Bowls as Elway, more MVP awards, and won a Vince Lombardi trophy for Irsay. But after the way Irsay discarded Manning following the neck injury that forced him to sit out the 2011 campaign, leaving him off this top-five list feels apropos.
Even if Manning doesn't belong on the list, Elway probably doesn't deserve top-five billing either. Another notable omittance is a player who many feel is in the top three without a doubt, and that's Jerry Rice. Not only is he viewed by most as the best at his position, but those who watched his career will also tell you he's the best football player they've ever seen pass through the NFL, regardless of position.
These lists are subjective, but it's hard to take an all-time NFL players list too seriously when Rice isn't included.