Here is a funny headline to put above a blog about J.R. Smith just hours after the entire internet spent a full day enjoying the thought of Smith hurling soup at Cavs assistant coach Damon Jones: "With Cavs struggling, J.R. Smith's stunts aren't so funny anymore." I beg to differ!
Generally speaking, this blog, from The Athletic's Jason Lloyd, overrates somewhat Smith's decline:
The Cavs have paid him $26 million thus far in the past two years and in return have received exactly 208 3-pointers; he made 204 3s during the championship season. Smith widely received a pass last year because the contract holdout meant he got a late start, then a serious thumb injury and the premature birth of his daughter wrecked the rest of his season.

But there is no such excuse this year, and yet, Smith hasn't been any better. He sulked at the start of the year when he lost his starting job to Dwyane Wade. Within days, he had his spot back, but the damage was apparently done. He hasn't been the same player since. He's shooting less (and passing up quality looks in the process), scoring less than almost any point in his career, and he isn't defending, as well.

Since Smith left Denver back in the 2011 offseason, he has had exactly zero seasons where his cumulative True Shooting was better than league average; during Cleveland's championship season, J.R.'s defensive rating was second-worst on the team, just as it is today. By several important measures, this is only a slightly down year for Smith: he's a career 41.9 percent shooter shooting 39.2 percent; he's a career 37.3 percent three-point shooter shooting 36.3 percent; he's a career 51.1 percent effective field goal percentage player producing a 51.8 percent effective field goal percentage. It's his defense that stinks: ESPN ranks Smith 95th out of 107 shooting guards in Defensive Real Plus-Minus, which is really lousy. But also, he's 32 years old! If the Cavs thought they were gonna be getting prime Smith when they offered him a four-year contract, they were sure fooling themselves!

Still, Lloyd is right about this much: Smith is having a down year, and that's a bummer. But not at all because it means I can't enjoy the thought of him soaking Damon Jones in hot soup. If anything, his struggles blow because they might portend a near future when Smith will not be around to soak Damon Jones in hot soup! The actual reason I want J.R. Smith in the NBA is so he can untie opponent's shoelaces, wear shirts, not wear shirts, forget that he is in an NBA game, offer the pipe, sign the pipe, get roasted by his daughter, and throw soup at annoying assistant coaches. Possibly the only thing that could've made the soup-throwing incident more entertaining would've been if J.R. did it while wearing Carmen Miranda's fruit hat.
And that's the problem with this latest incident involving J.R. Smith. Armed with the biggest contract of his career, he is now regressing back into a punchline. All of the image rehabilitation, all of the goodwill he purchased during the championship season is eroding.
G/O Media may get a commission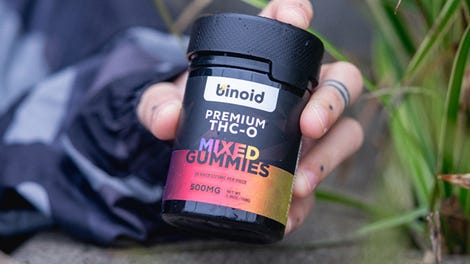 25% Off + Free Shipping
Binoid THC-O Gummies
I'm checking with the judges, and ... nope! J.R. Smith's antics: still very funny! Actually I am enjoying them very much, thank you dour basketblogger types.