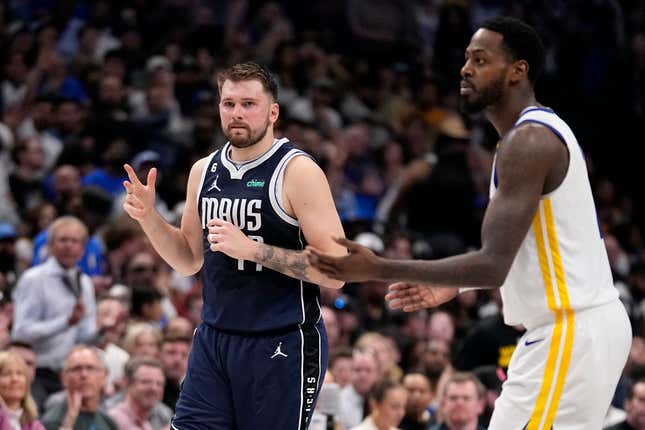 The Dallas Mavericks have seemingly spent this season in a state of perpetual confusion. Things started alright but have worsened as the 2022-23 campaign nears a close. Trading for Kyrie Irving only complicated matters by doing the opposite of what team governor Mark Cuban had hoped. Wednesday night's game against the Golden State Warriors totally sums up this group of Mavs. They look dazed and confused.

Is 60 > 71? Debating Luka Dončić and Donovan Mitchell's record breaking games
A communication mishap stemming from the previous play led to the Warriors taking an uncontested layup in a play that nobody could believe. We've seen uncontested plays at the rim in the NBA, especially in recent years, but not like this when a team is inbounding the ball from under their own hoop.
Dallas' entire team was at the other end of the floor. Head coach Jason Kidd wasn't even aware of what had occurred and attempted to argue his point with officials to no avail. This could be the strangest play of this NBA season. In one of Kyrie Irving's first games as a Mav last month, there was a play where he and Luka Dončić played hot potato with the ball at the end of a game, with neither getting up a final shot. Wednesday night against the Warriors blows that play out of the water.

Adding insult to that debacle is the fact the Mavs lost this crucial game in a tight western conference playoff race. Dallas has fallen to ninth place in the west, losing two in a row and six of their last 10 games. This Luka-Kyrie experiment doesn't seem like it will be run back in Dallas, and the same fate could befall Kidd soon. After making a surprising run to the Western Conference Finals last year, anything less than making the playoffs may cause Cuban to think twice about the direction of his franchise.