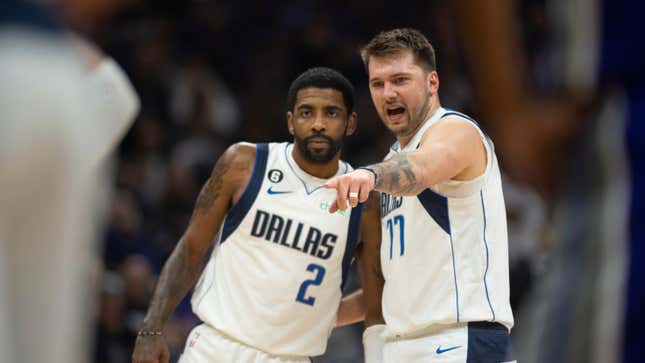 The NBA world went bonkers over the Kyrie Irving trade to the Mavs before the deadline, and barely a week in, we already have a hilarious moment from these two All-NBA stars. Dallas was down three points at home Monday night against Minnesota and inbounded the ball with 14 seconds left in regulation and could not get a shot off. The sequence between Luka Dončić and Irving resembled a schoolyard game of hot potato.
Is 60 > 71? Debating Luka Dončić and Donovan Mitchell's record breaking games
Everyone got excited about the idea of Kyrie and Luka and prematurely began talking about them contending for a title. These two won't sniff an NBA championship on the same team. These quick fixes rarely work, and we know Irving's track record playing alongside anyone not named LeBron James. It's literally never worked out in terms of winning a championship.
Now Mark Cuban's giving it a shot by bringing Kyrie in to compliment Dončić, and this tandem is already doomed to fail. They'll have a grace period and need time to settle in, but it's a lot of your turn, my turn, basketball right now. Looking at that final play against the Timberwolves,
Dončić and Irving were the only players involved, and neither bothered to put up a shot.
The fact that Jason Kidd drew up that play really jumps off the screen. We understand the idea and luxury of having two isolation kings on the same squad, but for Christ's sake, you can still draw up a play in crunch time to get an easier shot. This play was absurd and will undoubtedly wind up on a blooper reel.
These next few months down the stretch in the NBA will be very interesting. Everyone will presumably be chasing the Suns after they acquired Kevin Durant at the deadline while the Mavs try to figure out who will be the man in clutch situations. Everyone knows it should be Luka but try convincing Irving of that and see how far you get. Unless they get the right matchup in the western conference playoffs, I'd be surprised if Dallas wins a series. Championship talk with these Mavs is simply crazy.