We've told you all about Dan Borislow, the renegade owner who managed to bring down the whole of Women's Professional Soccer. His abusive, racist, sexist emails. His "Batmobile-like motorcycle." His complete inability to run a team, and his total unwillingness to market it.
WPS has canceled operations for 2012, though Borislow's Boca Raton-based MagicJack lives on, inexplicably still appealing to some players. After reading one former player's tell-all, we can't imagine why. Striker Ella Masar played most of the 2011 season with MagicJack, before being permanently benched in July—soon after the WPS players' union filed a grievance against Borislow. Among other things, the grievance cited Borislow's emails that "demonstrate his practice of bullying and threatening players, and his creation of a hostile, oppressive, and intimidating work environment."
It was mid July and we were all (MagicJack) sitting in our locker room. Dan had called a meeting to give us our options with the grievance being filed earlier in the week.

Of course, he did not show up. He just relayed his "dirty work" to some of the girls on the team and gave us two options:
1) Disagree with the grievance and tell the league that we stand by him.
Or
2) Agree with the grievance and he will pull the plug on our team and the season is over.

Side note:
At this point in time Dan was pointing a lot of fingers to different girls on the team to see who exactly started the grievance. Fortunately, for us, he had pissed off ONE too many girls and could not single anyone out. He sent one too many emails or said to the girls one too many times, call me "Daddy." I wish I were kidding.
Some of us also asked the lawyers of the league what the worse case scenario would be if we did decide to stand up to Dan (finally). We were reassured that it would survive the remainder of the year. That is the ONLY reason that any of us would have sucked it up and stood by Dan. We refused to be the reason of ending someone else's dream.

Even to this day, I still do not understand how there were mixed feelings about the grievance. Because we, as a team, had had numerous meetings about standing up to Dan and telling him how could not treat us the way he did. I am telling you, every SINGLE woman in that locker room (that day) had approached me at one point or another saying that they did not want to come back. That NO amount of money was worth being there.

[...]

So as we were sitting there facing our options, feeling that fear that Dan could pull the plug on us and collapse the league I raised my hand and said, I am sorry, I can't stand by Dan, no matter what.

Not even 5 to 10 minutes later, I received a text saying I had two options. "Go home and get your nose fixed or be traded." I read it out loud to the team and walked out of the locker room.
G/O Media may get a commission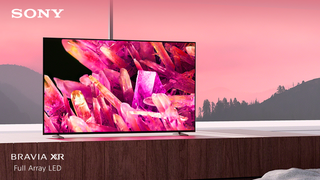 $400 off
Sony 55 Inch 4K Ultra HD TV X90K Series
The reference to Masar's nose is about an injury she suffered more than a month earlier. She had been kicked in the face in a match, and had trouble breathing. A later MRI would show that her nasal valve had collapsed, but Borislow would not allow her to seek medical treatment:
As soon as the game was over I knew that I needed to go get it checked out. I told our chiropractor because Dan did not believe in an athletic trainer and he said he could not re-set it.

He told Dan that I needed to go to the hospital, so Dan put me in his car and said we were going to the local hospital. Long story short, we never made it to the hospital. He took me to dinner with his "boys" and then I was with him for 2 more days until we met up with the girls in Atlantic City.

Why I never went, I still do not understand.

Then for the next month I was telling him I needed to get my nose checked out. When I went back to Chicago, for the world cup break, I made my own doctor's appointment to see what exactly was wrong. The doctor told me that I needed surgery but she needed an MRI first to see the extent of the damage.
Well when I called Dan to tell him this, he said he didn't want me to get one and to come back to Florida. That he would take care of me there. . . .. I NEVER got taken care of.

Only a month later, when I was "released, " was I able to come home and set up an MRI appointment.
It was not technically the end of Masar's time with MagicJack, but she would never see the field again.
After lots of prayer, many conversations with my family, I told Dan I wanted to be traded. I was not going to let this man tell me my season was over. Not after everything I had been through down there. Western New York and Philly became very interested and both offered Dan trades.

Dan not only denied them both but also decided he wanted me back. Abby [Wambach] called me from the World Cup, the day before the finale asking me to come back, and Dan told me that he had made a mistake.

[...]

So my heart said, you know what, some of these girls deserve a championship. I am going to do everything in my power to help them. I land in Florida a week later. The US girls are back, Abby is named our coach, and my hell starts.

I realize now that Dan never wanted me back to help the team. He wanted me back to make an example of me. To show everyone that he was in control.

I sat the bench for the next 6 weeks.
After the season ended, Masar signed with Paris Saint-Germain. Because France has an internationally recognized top flight women's division, and thanks in large part to Dan Borislow, the United States does not.
No More Silence [EllaMasar.com]