We were actually at a wedding the night before the Carolina Panthers bathroom rendezvous story broke, and by the time we woke up that Monday November morning, we felt helplessly behind on the story. We had a fear facts would cause the story to peter out by the time we caught back up.
Not quite. The details poured in as the days went on, with more pictures surfacing, full police reports, promotions at the infamous Banana Joe's, fierce (and LYING!) denials and, finally, a plea bargain.
The "they can't make money off this" provision in the final sentencing assures that the theoretical Penthouse pictorials will never become a reality, but there's little chance that a story involving two Carolina Panthers cheerleaders having sex with each other in the bathroom of a Tampa bar will fade from the public consciousness anytime soon.
G/O Media may get a commission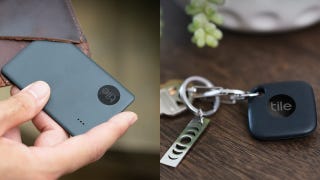 Up to 35% off
Tile Item Trackers
But is it a Hall of Famer? Remember, 75 percent is the threshold. Vote below: Polls will be open until next Tuesday.
Gawker Media polls require Javascript; if you're viewing this in an RSS reader, click through to view in your Javascript-enabled web browser.