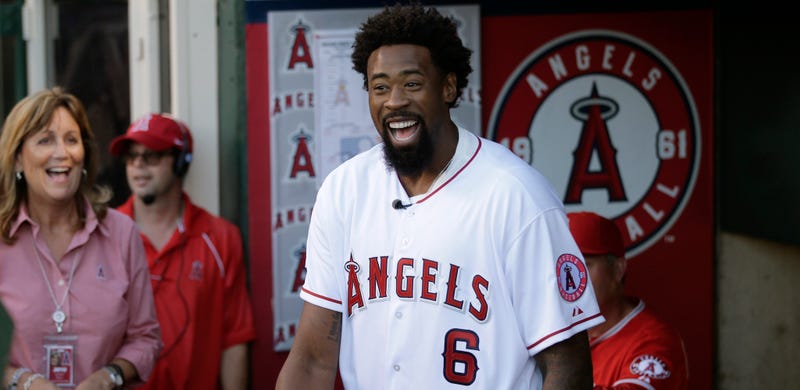 Hey, remember all that shit with DeAndre Jordan back in July? No? Let me briefly remind you.
On July 3, the powers that be reported that Jordan had chosen to join the Mavericks in free agency, but five days later came reports that Jordan was waffling and the Clippers were attempting to woo him back. Finally, after a night that involved an emoji standoff and a bunch of Clippers barricading themselves in his home, Jordan re-signed with Los Angeles.
Key to this saga was NBA superagent Dan Fegan, whose Relativity Sports represented Jordan. Fegan is known to have a tight relationship with Mavericks owner Mark Cuban, and at the time of Jordan's about-face there was reporting that he felt pressured to join the Mavs by Fegan. Fegan also represents Chandler Parsons, who was doing the heavy lifting in recruiting Jordan for the Mavs, and Dwight Howard, who considered the team last season before signing with the Rockets.
According to Ramona Shelburne's tick-tock of the entire saga, an incommunicado Jordan barely even involved Fegan in rethinking his decision:
By this point, Jordan was barely communicating with anyone on the outside. At 4:53 p.m., he sent Parsons a text saying he was still talking to Rivers. More than five hours later, he confirmed he was re-signing with L.A. and said he hoped they could still be friends.

Jordan didn't return any calls or texts from Cuban. He didn't invite his agents inside the house until after 10 p.m.

By then, Fegan had given up. He left around 9 p.m. to catch a flight back to L.A. [Fellow Relativity Sports agent Jarinn] Akana stayed and went in the house to witness Jordan signing the contract.
And finally today brings the inevitable report, via the Los Angeles Times's Broderick Turner, that Jordan has left Relativity Sports:
DeAndre Jordan's seemingly never-ending summer saga has taken another twist — the Clippers center has parted ways with his representatives at Relativity Sports, The Times has learned.

Jordan informed agents Dan Fegan and Jarinn Akana last week that he was moving "in another direction," said an NBA official not authorized to speak publicly on the matter.
Earlier this summer, fellow Clipper Austin Rivers left Relativity Sports, and Jordan's departure officially signals a trend ... among the only two Clippers to be represented by the agency, at least.
Don't feel too badly for Dan Fegan, though. As Turner notes in his report, Jordan is still obligated to pay Fegan the standard 4% he earned on Jordan's $88 million contract. And besides the aforementioned Parsons and Howard, Fegan represents some of the biggest stars in the game like DeMarcus Cousins and John Wall, while Relativity also has Jimmy Butler, Andrew Bogut, Ty Lawson, Anderson Varejao, Ricky Rubio, Monta Ellis, and others.
---
E-mail: kevin.draper@deadspin.com | PGP key + fingerprint | DM: @kevinmdraper | Photo via AP