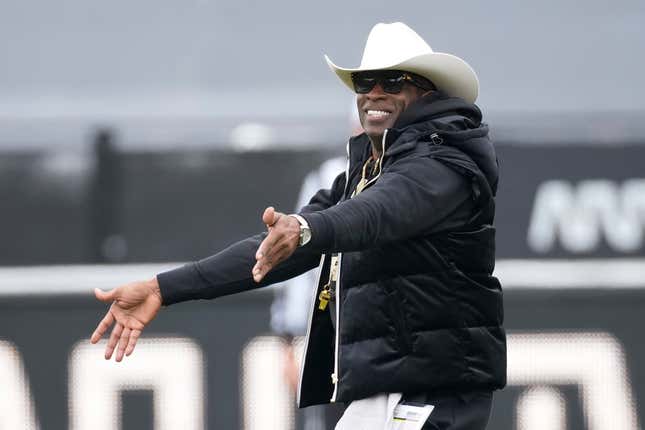 Deion Sanders' recruiting tactics have been pilloried or celebrated far and wide across the college football spectrum since he became the top dog in charge of the University of Colorado's football program in December. Since then, most of Sanders' peers have been tightlipped about their concerns surrounding his overuse of the transfer portal. According to 247Sports' rankings, the Buffs have the nation's No.1 transfer portal class in 2023.
Dodgers World Series guarantee was trash! | Trash Talkin' Tuesday
However, to make room for that class, Sanders was upfront about pushing out guys he didn't need around. At his very first team meeting, Sanders peered at a room full of student-athletes, and equated them to goods that he wanted to dispose of, telling them "I'm bringing my luggage with me, and it's Louis."
One coach who has been very outspoken about Sanders' methods is Pittsburgh's Pat Narduzzi. Narduzzi's annoyance with the transfer portal is a well-trodden path. A year ago, he called Lincoln Riley to accuse him of using their NIL riches to poach an All-American receiver before he'd entered the transfer portal
This time, he's taking issue with how Sanders has gone about disposing of Colorado players he inherited from the previous regime. Between when Sanders accepted the Colorado head coaching job and now, the rate of transfers flowing in and out of Boulder has been unprecedented. Last month, Narduzzi spoke to 247 Sports and unloaded against Sanders.
"That's not the way it's meant to be," Narduzzi told 247Sports. "That's not what the (transfer portal) rule intended to be. It was not to overhaul your roster. We'll see how it works out but that, to me, looks bad on college football coaches across the country. The reflection is on one guy right now but when you look at it overall — those kids that have moms and dads and brothers and sisters and goals in life — I don't know how many of those 70 that left really wanted to leave or they were kicked in the butt to get out."
In response, Sanders took issue with Narduzzi's characterization and then pretended not to know who he was.
"What was his situation when he came to Pitt? He had a different situation than me," Sanders said Friday. "He is not mad at me, he is mad at the situation in football now that allowed his best player to leave a year ago. He's not mad at me, he's using me to shoot bullets at another coach who he has an issue with. I don't know who he is; if he walked in here right now I wouldn't know him."
The coach whom Sanders infers Narduzzi is actually upset with is probably the aforementioned Lincoln Riley, who allegedly orchestrated the Jordan Addison saga. Interestingly enough, Sanders knows all about that, while dissing Narduzzi, by essentially calling him a nobody. Pretending not to know who Narduzzi is, reeks of infantilism, but that arrested development is partly why Sanders appeals to recruits. He's young at heart, sometimes a little too childish.
But most importantly, he deflected because Narduzzi was correct. I can remember the vitriol surrounding the excessive use of grey shirting. That policy that exists today occurs when programs offer more athletic scholarships than they have available. In doing so, they leave verbal commits out to dry as excess and put them out on layaway until the next year with the heartlessness of furniture. Throughout the 2010s, the grey shirting was indicative of the SEC's cutthroat nature.
In the days following Colorado's spring game, a slew of scholarship players from their 1-11 2022 season left. In total, 18 players have entered the portal. More than 40 players in total have filtered in and nearly 50 have entered the transfer portal.
Colorado has quickly embraced the professionalization of college football. In doing so, they've become a target of coaches who recognize that they're still the caretakers of young men they promised to guide through the rigors of college football. Neither Narduzzi, nor Sanders is the type to let bygones be bygones. Something tells me this won't be the end of this feud.
---
Follow DJ Dunson on Twitter: @cerebralsportex