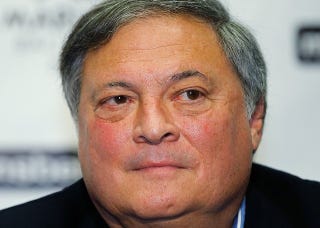 When Jeffrey Loria isn't busy running the Marlins into the ground, he's wheeling and dealing in the art world. On Monday, he sold a (lovely!) portrait by Alberto Giacometti for $32.6 million at a New York art auction. That puts the painting's value just $7 million shy of the current payroll of the Miami Marlins.
There's no telling what Loria is going to do with his windfall, but nobody should count on him using any of it to help pay off the $2.4 billion debt that he saddled the city of Miami with when he convinced its city council to build him a new stadium with taxpayer money.
As always, Jeffrey Loria can fuck off.