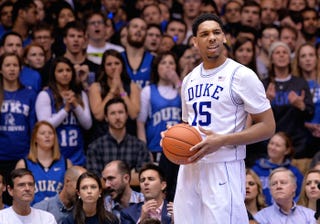 Two days after losing their first game of the season, Duke lost its second. The Blue Devils were embarrassed at home by Miami, losing 90-74. They're awful right now!
Duke actually led 35-34 at halftime, but the Hurricanes dropped a fat 56 points on the Blue Devils' heads in the second half. Jim Larranaga's squad shot 50 percent from three, and finished the game with a 51.8 field goal percentage.
Tuesday night's loss was far more significant, as it snapped a 41-game win streak at home. The Blue Devils haven't played like absolute trash in two consecutive games in a while:
You suck, Mick Krizilonski!
Photo: Getty Images