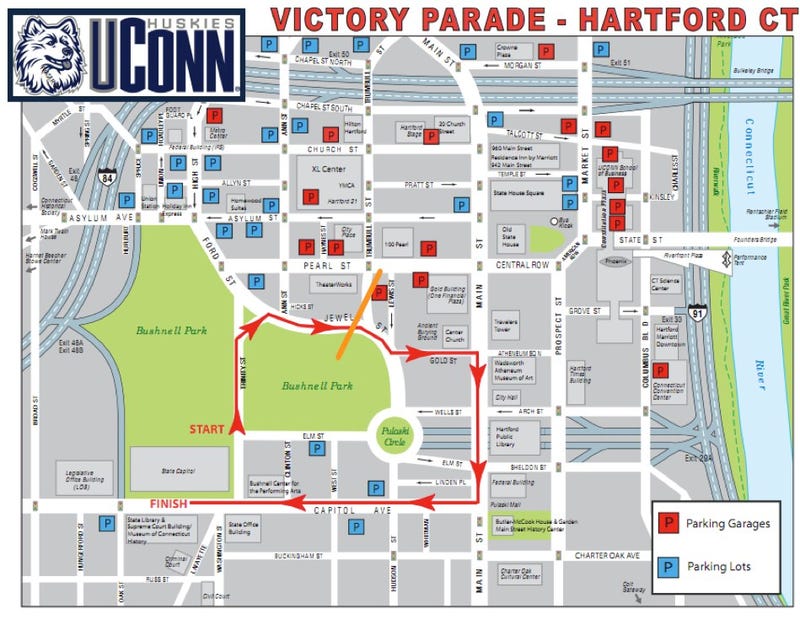 It's one thing to win what ranks among the worst men's college basketball championship games ever. It's another thing altogether to have to ask the city of Hartford or the state of Connecticut to pony up some coin to have a parade to accompany "the scheduled celebration for the team at the state Capitol."
This is why Mike Zaleski, executive director of the Hartford Business Improvement District, has already tapped "individuals, businesses and corporations" for about half the loot he needs to show the Huskies some street-side love.
"People might not realize how much it costs to put this on," he said, adding that the group is grateful for the support it has gotten so far. "This is difficult to do in a short period of time, but we're hopeful." ...

Zaleski said private parking lot operators have been asked to offer "event parking" for the day, though they are not required to do so.
In unrelated news, Robert Burton strokes a hairless cat in an underground fortress waiting for the green-phone hotline to ring, fantasizing that the person on the other end of the line will think a parade donation is worth three of Robert Lunn's fingertips. Maybe four.
Organizers: UConn Parade Could Be Canceled [Hartford Courant]
UConn Parade In Jeopardy [NBCConnecticut]