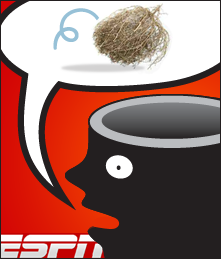 ESPN scours its message boards regularly to find its cleverest, boldest, most enlightening comments, and presents them on their front page. Here is one of those comments ...
• "Florida minus Tebow equals a 6-6 season." — TheGoDawg
Previous ESPN Featured Comment of the Week, plus a Featured Deadspin Response or two ...
• "The Lakers lost a game they should've had, but what's a game here or there?" — kobeisbatman
—-—-—-
• Our sentiments exactly - OKC Thunder. (BrockMiddlebrook)
• The prosecution lost a case they should't have, but OJ is too dumb to stay out of trouble forever. - Jackey Chiles (Dany Heatley Speedwagon)
• The Irish have been set back ten years, but what's a generation of fans here or there? - CharlieWeisisaFatman (MarkKelsosMigraine)
• ESPN commenters love fudging win-loss record related math. —kobeisbatmanisbonzo_bonham (dont-forget-where-you-came-from-cheese mac)