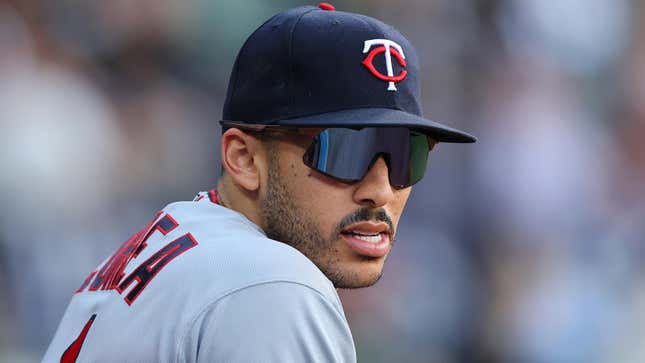 Just one month ago, two-time All-Star Carlos Correa was a San Francisco Giant. After a few medical examinations from Giants' staff, the team couldn't bring themselves to give Correa the 13-year, $350 million contract they'd agreed upon. Instantly, Correa was snatched up by the New York Mets, who offered a similar 12-year, $315 million contract. After a few medical examinations from Mets' staff, the team couldn't bring themselves to fulfill that contract.

Is the new pitch clock good for baseball?
Throughout these dealings, the consensus was that Correa's ankle injury, sustained in 2014, was the culprit, concerning every interested organization. Ultimately, it cost Correa $150 million. He signed a six-year, $200 million deal with the Minnesota Twins — the same team he played for in 2022 — earlier today. And even though Correa will make more money per year, odds are that Correa wanted a longer deal guaranteeing him more money overall, even if it meant less money per year. That sentiment is only strengthened by the fact that Correa was never too happy settling for a three-year deal last offseason.

Why didn't a bigger team offer Correa a short-term deal?
Several people online are confused about this deal, wondering why more teams weren't interested in signing Correa to a shorter deal if the injury was the problem. However, I'd argue that was exactly the case. Odds are that there were multiple teams lined up at Correa's doorstep willing to sign him, but after the medical concerns arose after signing with the Giants and Mets, several teams pulled back their deals, offering one or two-year contracts instead. Correa didn't want that. The upside of a short-term contract is that teams usually offer much more annually than a long-term contract would. Since the player in question isn't getting the guarantee of making money year after year, they get more money in the short run. In turn, the team isn't locked into a large contract for the next decade should the player not work out. Therefore, with all the concerns about Correa's ankle, it makes sense that the Twins — the same team that saw Correa's talent first-hand in 2022 — would be the only team willing to give him a contract for more than five years.

Reports indicate that the Twins offered Correa a 10-year, $285 million contract before he signed with the Giants. Even they have taken a few steps back, but they witnessed Correa slash .291/.366/.467, recording a .834 OPS and 140 OPS-plus (the second-highest of his career) during a season where most offensive numbers were down across the board.
Sure, there might be more concern about his long-term production after more teams got a look at him, but given what he was able to provide in 2022, how he was able to keep the Twins in contention for an AL Central crown for most of the season, and how he was so confident in himself that he was willing to test free agency this year rather than giving in to the remainder of his contract with the Twins, it doesn't surprise me at all that once the big-market teams got skeptical, Minnesota was there to offer Correa a reassuring hand.

Does this make the Twins competitive?
That's still lame though. I mean, this is Correa we're talking about. He's a former Rookie of the Year and World Series champion. He's the guy who had the gall to call Derek Jeter overrated. With all the hype surrounding the shortstop market this year, and guys like Trea Turner, Xander Bogaerts, and Dansby Swanson all going to competitive teams, it's kind of disappointing to see the most talked-about shortstop re-join a team that went under .500 last year. We already saw Correa with that team, so why would they get any better? This doesn't change the MLB landscape at all, or minimally at best.

I mean, sure, the Twins could get better. José Miranda is still young. I'd hope Max Kepler bounces back. Byron Buxton will be healthy again, until he isn't. Joe Ryan impressed for most of 2022 and should only get better. They also signed Joey Gallo and Christian Vázquez and traded for Kyle Farmer. With how weak the AL Central is, it's not hard to imagine this team making a postseason push in 2023. However, are they really going to compete with the Astros, Yankees, Blue Jays, even the Orioles? Probably not.

On one hand, I find it refreshing that a mid-market team could re-sign such a huge star. Given how imbalanced the league has become in terms of rich teams mostly dominating small-market teams, it's good to see that such a signing is still possible. However, the cynical side of me also realizes that this deal was only reached because multiple big-market teams saw what Correa offered and swiped left. After all the talk of where Correa would land, seeing him return is both heartwarming and underwhelming.
At least it was an interesting few weeks though. Who knows, maybe the Twins will back out too.