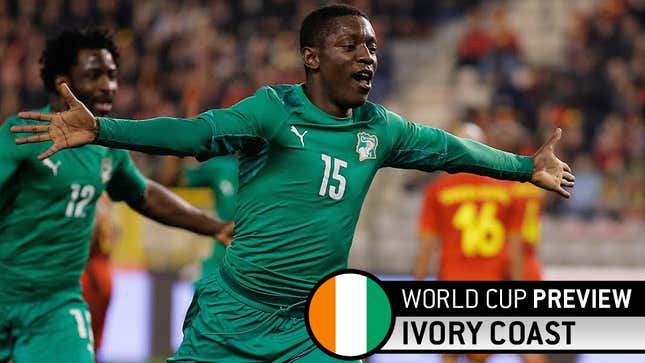 It's put up or shut up time for Ivory Coast this summer. The Elephants have gone almost a decade as easily Africa's most talented squad, yet time and again, they've come up short in international play. In a finally forgiving World Cup group, and with a couple key players in the form of their lives, Ivory Coast has one last shot to capitalize on all that potential.
How running an NFL team is like running a restaurant | Chef Emeril Lagasse
A few disappointing World Cups and African Cups of Nations don't look as egregious when you remember how green they are from a historical perspective. For as good as Ivory Coast has been recently, they actually are neophytes on the international stage. The country didn't qualify for it's first World Cup until 2006, but now have qualified for the successive two tournaments.
The history of soccer in Ivory Coast is the history of soccer in Africa. Various colonial forces imported the game in the late 1800s to early 1900s. Before the Confederation of African Football's foundation in 1957, only the Egyptian, Sudanese, South African, and Ethiopian federations were recognized by FIFA. After the decision to recognize Africa as its own region and to guarantee them a specified number of spots in the World Cup, other individual African nations began organizing the sport for themselves.
The Ivorian Football Federation was thus founded in 1960, along with a national club league, Ligue 1. When you think how far behind countries like Ivory Coast were from the big boys, coupled with constant, systemic internal turmoil and violence, it's not too big of a surprise that Ivory Coast didn't burst onto the national stage until recently.
And while the Elephants haven't made much of a dent internationally, it's not for lack of talent. Ivory Coast are on the tail end of—and pardon the use of this overworn phrase—a veritable golden generation. Didier Drogba, Yaya Touré, Kolo Touré, Didier Zokora, and Boubacar Barry have remained the spine of this Ivory Coast team throughout their time as the toast of African soccer. On top of that, there's a secondary group of younger players like Gervinho, Salomon Kalou, and Cheick Tioté who've been mainstays in the national team set up. That's an assortment of European league winners, Champions League staples, and key players for some of the world's biggest clubs.
Unfortunately, they haven't really done much together. Despite being favorites for every African Cup of Nations—a biennial tournament most infamous on our side of the world for stealing some of Europe's best Africans in the heart of their club seasons—in recent memory, the group has not managed to hoist the cup themselves since 1992. Twice they've finished runners-up, in 2006 and 2012, but they've not been able to push through.
Their failure to make it out of the group stage in the last two World Cups is a little more forgivable. Both times Ivory Coast has been a casualty of the Group of Death, in 2006 finishing third behind Argentina and the Netherlands, in 2010 getting pipped by Brazil and Portugal. This year's fairly weak group means we should get to see just how far Africa's golden boys can go.
Roster
Goalkeepers: Boubacar Barry (Lokeren), Sayouba Mandé (Stabaek), Sylvain Gbohouo (Séwé Sport)
Defenders: Didier Zokora (Trabzonspor), Kolo Touré (Liverpool), Arthur Boka (Stuttgart), Sol Bamba (Trabzonspor), Serge Aurier (Toulouse), Constant Djakpa (Eintracht Frankfurt), Ousmane Viera (Çaykur Rizespor), Jean-Daniel Akpa-Akpro (Toulouse)
Midfielders: Yaya Touré (Manchester City), Cheick Tioté (Newcastle United), Didier Ya Konan (Hannover 96), Max Gradel (Saint-Étienne), Serey Die (Basel), Mathis Bolly (Fortuna Düsseldorf), Ismaël Diomande (Saint-Étienne)
Forwards: Didier Drogba (Galatasaray), Salomon Kalou (Lille), Gervinho (Roma), Wilfried Bony (Swansea City), Giovanni Sio (Basel)
Nickname
Les Éléphants
FIFA World Ranking
23
Manager
Sabri Lamouchi
Lamouchi, a respectable though unexceptional French international as a player, doesn't really have any business managing a World Cup team, let alone one as talented as this one. The 42-year-old had no previous managerial experience nor any connection to Ivory Coast when he was appointed their national team manager two years ago. It was a confusing decision—Lamouchi admitted as much, saying "I don't think anyone expected it, me included"—from an Ivorian Football Federation that specializes in puzzling decisions.
Players to Watch
Didier Drogba, Striker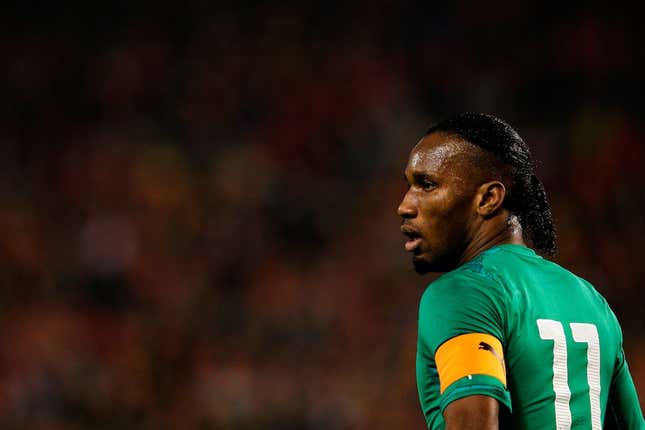 Even if Drogba is no longer the Drogba of 2010, nor is he even Ivory Coast's best striker, his continued status as one of the coolest dudes to ever live means he should be paid attention to whenever he's on the pitch. And not just because his conk is the prettiest one since Detroit Red Little's.
Many are familiar at least in passing with his résumé, but let's go over it one more time for good measure. He grew up between Ivory Coast and France, alternating between his parent's home in his country of birth and his professional soccer player uncle's French digs. Drogba's travels meant he never caught on with a club academy until his late teens, when all his contemporaries had already been honing their craft for years.
He didn't show any real promise as a player until his mid-twenties, but when his talent took off, it took off quick. A decent year for French Ligue 2 side Le Mans lead to a transfer to Guingamp in Ligue 1, where another good year lead to a transfer to Champions League team Marseille, where a great year lead to then-club-record £24M transfer to Chelsea. His 100 goals in 226 appearances, three Premier League titles, and one Champions League trophy won on the back of his 88th minute savior equalizer and winning penalty shootout conversion speak for themselves.
Not to mention his peacemaking efforts back in Ivory Coast, where his face-to-face meeting with Ivorian rebel and government leaders is credited with ending a five year Civil War. Or the hospital in his city of birth, which he funded by donating his Pepsi endorsement fees. There is Levallois Sporting Club's Stade Didier Drogba in France and Drogbakro Village, an area of Abidjan named after the man. And let's not forget, that hair!
Yaya Touré, Midfielder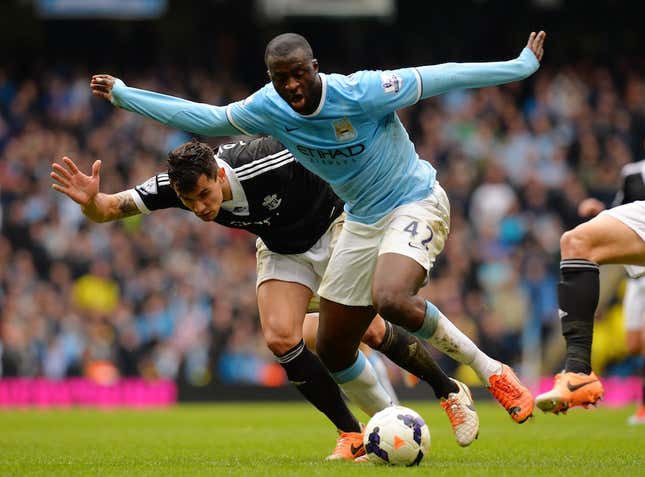 Let's talk about Touré's status as the world's best midfielder. Obviously, there are many different roles and attributes any given central midfielder possesses in any given system. Yaya isn't the dribbler Andrés Iniesta is, he isn't the surgical passer Luka Modric is, and he isn't the defensive genius Sergio Busquets is. But for the past few seasons, no other midfielder was as crucial to his club's success as Yaya Touré.
For one, he's been on a ridiculous scoring tear. Yes, his 20 league goals this season are above and beyond anything he's done before, but in his previous three seasons in Manchester he averaged right around 10 goals in all competitions. He also averaged five assists in his first three Premier League years before this season's 9.
These numbers are impressive for any non-penalty taking central mid, but it's even more so for one who sits so deep. Since Yaya has been a Citizen, he's played behind a number of ultra-attacking wingers and forwards in their 4-4-2, and he's mostly been asked to hold back a bit to ensure the team doesn't get exposed on the counter. Even then, he always pops up around the box to assist the attack or curl in a shot himself, but his main role has been as the deep-lying playmaker.
Yaya Touré can sit back and orchestrate an attack from deep like Andrea Pirlo, can bomb forward like Arturo Vidal, or break up counters with smart positioning like Michael Carrick. No one else can touch that versatility. He's like Captain Planet, combining every midfield skill into one super-player.
Tactics
Ivory Coast's style of play is less defined by their tactics than by their talent. Which is to say they don't play any particular way, they just play. Their primary formation is a 4-3-3, but with two holding midfielders instead of one. (Well, three holding midfielders to be exact. Cheick Tioté, Didier Zokora, and Yaya Touré are all defensive midfielders, but Yaya plays further ahead of the other two.)
When they don't have possession, they aren't in a rush to win the ball back by pressing, nor are they all that defensively sound and structured. Ivory Coast just hangs back until the other team makes a mistake, then move into the attack they are more comfortable with.
But even offensively, they don't do anything you can point to as evidence of an over-arching philosophy. You could say they are attacking, but it's only because they have so many awesome attackers. At the heart is Yaya Touré, who we've already declared the best midfielder in the world. He can either take the ball from the center circle and go score himself, or he can play a ball out left to Gervinho, who has been revitalized after leaving Arsenal for Roma, or to Salomon Kalou on the right, who likewise left the Premier League and is now tearing it up in France for Lille.
As crazy as it might sound, the weak link going forward is team captain and Ivorian god Didier Drogba, who at 36 is past his best days as a striker. If he wasn't such a revered leader for his teammates and the country as a whole, Ivory Coast could be even more dangerous featuring Wilfried Bony, Swansea City's talisman. Still, that they play so well in attack has less to do with what they do structurally and more with who they have doing the playing. It's a very Redknappian approach to the game: Put out good players and have them fucking run around a bit.
Group C Fixtures
All times Eastern
June 14, 9 p.m.: Ivory Coast vs. Japan at Arena Pernambuco
June 19, noon: Colombia vs. Ivory Coast at Nacional
June 24, 4 p.m.: Greece vs. Ivory Coast at Estádio Castelão
Complete Group C Previews
Colombia | Greece | Japan | Full Archive
---
Screamer is Deadspin's soccer site. We're @ScreamerDS on Twitter. We'll be partnering with our friends at Howler Magazine throughout the World Cup. Follow them on Twitter, @whatahowler.
Top image by Jim Cooke; photos via Getty.