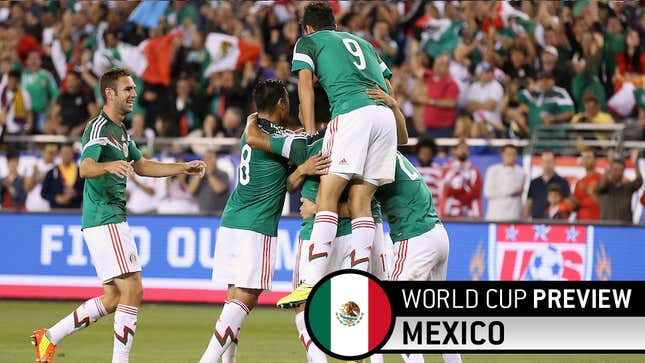 El Tri: the pride of Mexico, the class of CONCACAF (at least historically). In Brazil, they will look to continue their impressive streak of making it out of the group stage in five straight tournaments, despite recent turbulence in the team.
Ohtani has the WBC, but will Mike Trout ever lead the Angels to a championship? | Agree to Disagree
At this point, Mexico are international veterans, known worldwide for their formidable powers. Only Brazil (20 World Cup appearances), Germany (18), Italy (18), and Argentina (16) have played in more World Cup finals than El Tri's 15. They actually played in the Cup's very first match back in 1930, when they lost to France 4-1. Mexico had hosting duties in 1970 and 1986, and both times they made their deepest runs by making the quarterfinals.
Despite that illustrious history, Mexico had way more trouble qualifying for Brazil than anyone would've predicted. Things started auspiciously enough, with the team taking all 18 points in the group stage to make the hexagonal portion.
Cracks in the façade started to appear, though, when the USMNT for the first time ever beat Mexico in the Estadio Azteca, that hugely intimidating stadium full of screaming fans, flying coins/debris/insults/bags of urine, and balls that only hit the back of the net when kicked by a Mexican player. Sure, it was only a friendly, but it was also a sign of things to come.
G/O Media may get a commission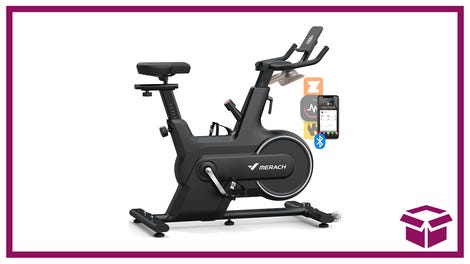 14% off + Coupon
Merach Indoor Cycling Bike
In the hex, things completely fell apart. Mexico opened matters with back-to-back draws to Jamaica and Honduras, the two minnows you'd imagine the big boys would easily dispatch. Then, the US came back to the Azteca and again earned a result.
The point of no return came in a shock home loss to Honduras. After seven matches, Mexico had only one win and were a legitimate threat to miss the World Cup entirely. The team fired the formerly popular José Manuel de la Torre and brought in two more interim managers before hiring Miguel Herrera.
Mexico did eventually qualify for the World Cup when the US saved their asses by beating Panama. From there all they needed to do was coast past New Zealand in the intercontinental playoff. For that pitiful display in qualification, Mexico was blessed with an exceedingly reasonable World Cup group they could easily make it out of. God, we should've let Panama save that tie.
Roster
Goalkeepers: José de Jesús Corona (Cruz Azul), Alfredo Talavera (Toluca), Guillermo Ochoa (Ajaccio)
Defenders: Francisco Javier Rodríguez (América), Carlos Salcido (Guadalajara), Rafael Márquez (León), Diego Reyes (Porto), Miguel Layún (América), Héctor Moreno (Espanyol), Miguel Ponce (Toluca), Andrés Guardado (Bayer Leverkusen), Paul Aguilar (América)
Midfielders: Héctor Herrera (Porto), Marco Fabián (Cruz Azul), Isaác Brizuela (Toluca), Javier Aquino (Villarreal), Carlos Peña (León), José Juan Vázquez (León)
Forwards: Raúl Jiménez (América), Giovani dos Santos (Villarreal), Alan Pulido (Tigres), Javier Hernández (Manchester United's bench), Oribe Peralta (América)
Nickname
El Tri
FIFA World Ranking
20
Manager
Miguel Herrera
Players to Watch
Giovanni dos Santos, Attacking Midfielder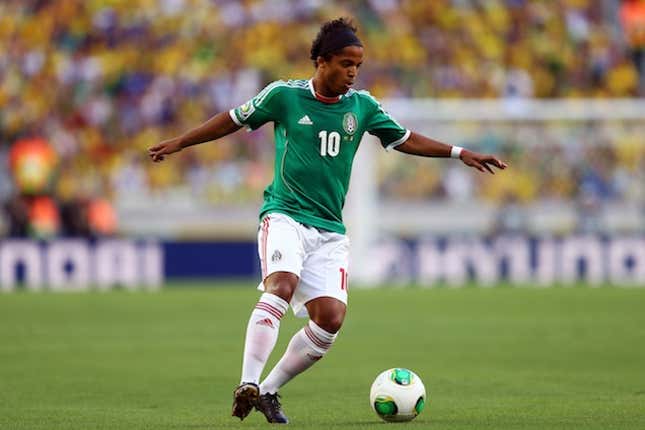 Giovani dos Santos is finally living up to the promise he's for some reason only managed to show consistently in a Mexico shirt. The former Barcelona academy graduate never found a nurturing home through much of his late-teens and early 20s, bouncing from league to league on various loans.
When he was in Mexico's colors, however, he usually shined. Amongst his compatriots, Gio flashed his keen eye for incisive passes, whirlwind dribbling skills, and a nose for goal. Over the past two seasons in Spain, first with Mallorca and now with Villarreal, dos Santos has finally been bringing those skills from week to week.
Playing on either wing or in behind the striker, Gio is the primary playmaker for both club and country. His inclusion in the Mexico side was a little in doubt over the past few months, but by making the team, dos Santos is primed to enjoy his best international tournament of his already impressive career.
Chicharito, Striker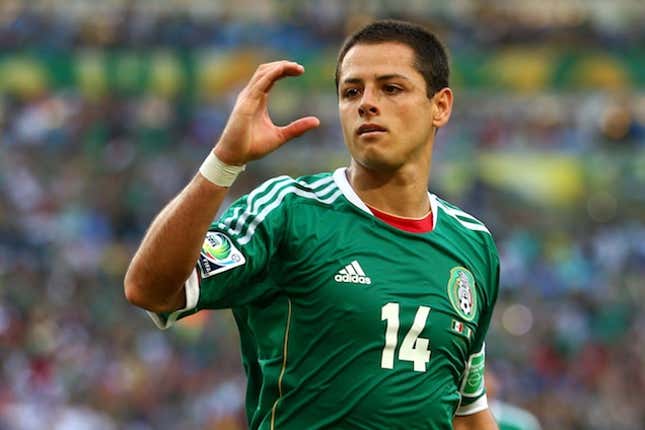 Now, this is predicated on Javier Hernández actually making it into a match, but should he do so, there is no other Mexican player more exciting to watch when full of confidence. Chicharito was Mexico's breakout star from the last World Cup, with his pace, work rate, instincts, and knack for finding himself in the exact position necessary to finish off chances forcing his manager to start Hernández after beginning the tournament in a reserve role.
After scoring two goals in that World Cup, the Mexican made his way to Manchester United, where he again fought his way onto the pitch among some of the best players in the world. He scored 20 goals that season, and looked like a superstar in the making.
But since that heady start to his United career, Chicharito has found playing time hard to come by. In Danny Welbeck and later Robin van Persie, Hernández had stiff competition for playing time. Over the past couple seasons, Chicharito has been little more than an impact substitute option, and his impact has slowly waned and waned.
His club form has been mirrored on the international stage. When he was playing and scoring for Manchester United, he was playing and scoring for Mexico. Now that he's out of favor in Manchester, he's also out of favor in Mexico. Chicharito most likely will not begin the tournament as Mexico's number one striking option. However, all the talent the 26-year-old boasted coming in to South Africa four years ago will still be there in Brazil, and we wouldn't bet against Chicharito turning back into Chicharito by the time it's all said and done.
Tactics
With Mexico, it's not so much a matter of formations and individual match-ups as style and confidence.
The latter is a concept upon which thousands of unknowing words will be wasted in the weeks ahead. Yet we won't know if Herrera's Tri has it until Mexico either curb-stomps Cameroon on June 13 or flails through another impotent 90 minutes. Those are the two most likely possibilities by far. From a team that's gone from looking like dark horse contenders to praying for results against New Zealand in one cycle, there's very little in between.
But the style is back. The player pool Herrera inherited has the rare ability to stretch teams just as much vertically as horizontally. And in his wingbacks-up 5-3-2 Mexico again shows a willingness to do just that. It's a Liga MX throwback and the players certainly look familiar with his setup.
El Tri presses three-quarters up the length of the field. Like any self-aware possession team, Mexico knows just how badly it needs the ball. Rafa Marquez, 35, starting in the center of defense provides a stern reminder.
---
---
When opponents have possession on either midfield wing, Mexico looks to trap with a wingback stepping to the ball, a midfielder sliding over and forward lurking behind. The idea is to quickly regain possession and switch the point of attack either through a diagonal to the weak-side forward or through one of the other two midfielders.
In essence, the Peralta-Chicharito striker pairing is just a present-day big man-little man combination, though to pigeonhole them in that way doesn't give enough credit to either forward's off-ball movement.
It's effective enough that even when Mexico's midfield creativity amounts to flat balls down either channel, the play remains dangerous if not also uninspired.
Without Giovanni dos Santos in the squad—though he's back now for the World Cup—Mexico's most natural creator is Guardado. And that's fine to a point. Modern string-pullers often operate from wide areas, and Guardado looks more comfortable doing than dos Santos did for much of qualifying.
But Guardado is deployed as a wing back. All it takes to pin a wing back out of the offense is a reasonably fast opposing attacker and a trickle of diagonals and through balls—two things any team in this World Cup can supply.
Worse still, all their shifting can very easily be in vain. Any time an opponent clears Mexico's defensive line in the sand just past the center circle, a shaky defense is exposed. Never mind that it means one man just beat three, the Mexican back line is slow and still struggling with basic man marking.
The Mexico-Nigeria friendly earlier this year was a prime example. A couple of times, Mexico found themselves vulnerable to attacks despite having numbers back defending. Having eight men to deal with a six-man attack sounds safe, but when the defenders have no structure in their positioning nor instinct to mark their opponents, the attackers will still enjoy the advantage.
As is, Mexico plays more pesky than poised. One can easily see from the way they chase, drive, and dummy on countless overlaps that Herrera's is a side refueled. The inclination to play in the way that provoked whispers of new "Golden Generation" earlier this cycle, that made talk aloud of a return to the quarterfinals perfectly appropriate, is back
The only other teams that can match the attacking duality of shuffling, side-to-side possession with breakneck upfield speed are contenders to win the World Cup.
That said, one can just as easily tell from the scoreboard that this is also a team that failed to tally in a de facto home match against one of the worst teams playing in this year's World Cup.
The defense gives the ball away cheaply with a sat-back midfield in front of it. And while waning, the self-destructive habit Mexico's wide midfielders have had of pinching and shortening their own attacking field lives on.
With Mexico lacking a central, forward thrust, El Tri looks likely to live and die from the deep wings. All the team's forward and horizontal ability will be wasted if Mexico spends its time scrambling backward.
And while Herrera has certainly improved the team, at time of writing, that is exactly where Mexico has fallen in this World Cup cycle: backwards.
Group A Fixtures
June 13, noon: Mexico vs. Cameroon at Estadio das Dunas
June 17, 3 p.m.: Brazil vs. Mexico at Estadio Castelão
June 23, 4 p.m.: Croatia vs, Mexico at Arena Pernambuco
Complete Group A Previews
Brazil | Croatia | Cameroon | Full Archive

---
Screamer is Deadspin's soccer site. We're @ScreamerDS on Twitter. We'll be partnering with our friends at Howler Magazine throughout the World Cup. Follow them on Twitter, @whatahowler.
Top image by Jim Cooke; photos via Getty