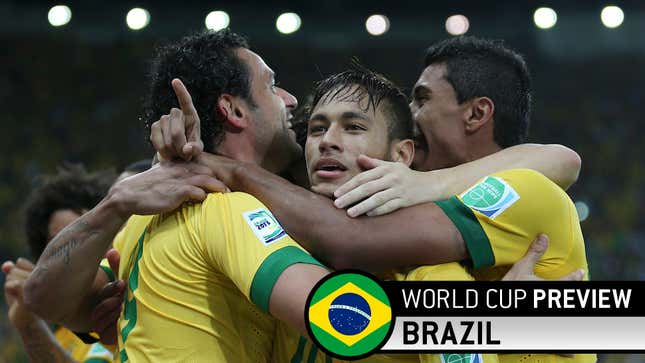 Brazil is widely thought of as the greatest soccer nation in the world, not just because it's dominated the sport, but because it's perfected it.
The Brazilian national team is the only team to have competed in every World Cup, and they've won five, more than any other nation. Their first World Cup victory was in 1958, in a 5-2 win over Sweden. They repeated four years later, and over the next decade, Brazil fielded players better than any ever seen: Garrincha, Tostão, Jairzinho, Didi, Carlos Alberto Torres, and Pelé, considered by most to be the best player of all time. Almost all of the players just listed were on hand for the 1970 World Cup, still thought of today as the best team ever.
Brazil's squads between the mid-'90s and mid-aughts boasted players like Ronaldo, Rivaldo, Ronaldinho, Adriano, and Kaka. They didn't overpower teams as much as flow through them like so many dancing ghosts, with players like Gilberto Silva and Lúcio providing the steel in defense.
This year, Brazil are hosting the World Cup, so they didn't have to go through CONMEBOL's arduous qualifiers. Instead, they chilled and played friendlies as Argentina, Chile, Colombia, Ecuador, and Uruguay outlasted the rest of South America for the right to play on their own continent. They haven't lost since February 2013, when England beat a weakened side 2-1 in London. Since then, few have even given them a game. Their coming out party, however, was last summer at the Confederations Cup, a scrimmage tournament that serves as a dry run before the World Cup. Brazil walked it, and smacked defending World Cup champions Spain 3-0 in the final.
Roster
Goalkeepers: Julio Cesar (Toronto FC), Jefferson (Botafogo), Victor (Atlético Mineiro)
Defenders: Dani Alves (Barcelona), David Luiz (Chelsea), Thiago Silva (PSG), Marcelo (Real Madrid), Dante (FC Bayern) Maxwell (PSG), Henrique (Napoli), Maicon (AS Roma)
Midfielders: Paulinho (Tottenham), Oscar (Chelsea), Willian (Chelsea), Ramires (Chelsea), Fernandinho (Manchester City) Luiz Gustavo (Wolfsburg), Hernanes (Inter Milan)
Forwards: Neymar (FC Barcelona), Hulk (Zenit), Fred (Fluminense), Bernard (Shakhtar Donetsk), Jô (Atlético Mineiro)
Nickname
A Seleçao
FIFA World Ranking
3*
Manager
Luiz Felipe Scolari
Players To Watch
Neymar, Left Winger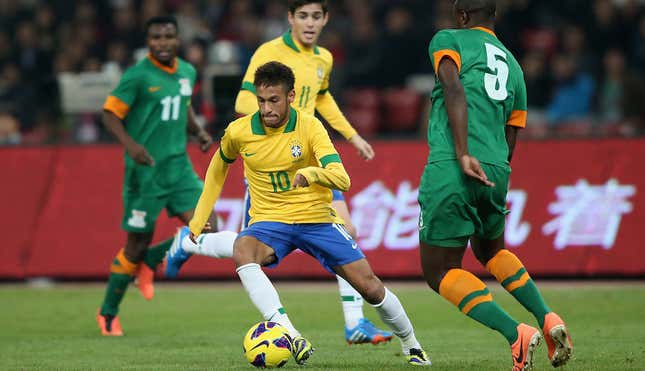 The World Cup—all tournaments, really—are won with superstars. This Brazil squad is new, because most of their world-class players—men one could argue are the best in the sport at their positions—are in their back four. This is a departure from the front-loaded Brazil we've known and loved. But Fred is no Ronaldo, and Hulk is consistently inconsistent. As good as they are, their scoring and thus their World Cup chances are tied to one player: Neymar.
Fortunately, Neymar—the short, slight, 22-year-old prodigy who has been called the third best player in the world outside of Lionel Messi and Cristiano Ronaldo—has and can put the team on his back. Brazil's star left winger is unique. The most striking thing about him is his ability on the ball, which might be unrivaled in the sport. He's got perfect technique; he's fast, agile, and creative, and, most of all, he's still very much a kid. Neymar's sense of youthful invincibility is palpable, and it's this trait, more than anything, that makes him the most flamboyant player in the world. With the ball at his feet, he's a flurry of elbows and knees and feints and flicks. He often steps on the ball, stops it dead, and dances on it with his hands on his hips before picking his head back up. He kills play. He takes on two, three players at a time. He attempts slaloming runs from inside his own half. What's insane is that this works.
The reason this works is simply because Neymar is so fucking good. He can take on two or three players at a time because he has the ability to beat them. In effect, he's holding up play before combining with Marcelo or cutting inside.
It's scary, because when Neymar cuts inside that he's most dangerous. He's in the top class of dribblers with guys like Cristiano Ronaldo, Messi, Luis Suárez, Franck Ribery, and a few others, who appear almost impossible to stop one-on-one. When Neymar gets the ball on the left side of the box, defenses have to send the outside back and either a center back or winger to stop him.
Once he does that, Neymar is one of the most devastating creators in the world, both for himself and others. He's an incredible finisher, and for all his glory boy traits, he's also one of the best passers in the sport. Given space along the end line, Neymar lifts his head and picks out passes with astonishing accuracy. As Brazil's greatest threat, expect most of the offense to go through him.
David Luiz, Center Back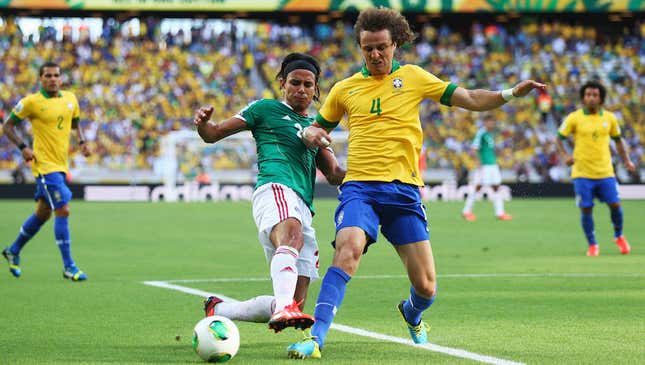 Depending on who you are and what you value, David Luiz is either one of the best or one of the worst defenders in the world. That's because Luiz is the most dynamic center back in the world, which is to say he's often everywhere but where you expect him to be.
Most Americans and Europeans alike share the same idea about central defenders: no matter what, they should stay home. Growing up, most center backs were taught through repetition and sometimes a literal rope that they were a single unit, tied together. One doesn't stray from the other, and no matter what, neither jumps into the attack.
The thing with Luiz, though, is that he's an athletic freak of nature, and he was taught and even encouraged to use that to his advantage. He takes chances, searches for opportunities to get up the pitch, to leave the security of his partner, Thiago Silva. When he played for his club Chelsea, he often got tutted and trolled for, if nothing else, his exuberance.
For Brazil, however, Luiz often goes on 10, 20, 40-yard jaunts down the middle of the pitch. He charges into the back of opposing players, preventing them from turning and running at Brazil's defense, and looks for opportunities to get involved with his team's attack. If Luiz pushes forward and Brazil lose the ball, he'll often stay up for a beat, hoping to flood the midfield and create a turnover in the opponent's half before working back.
While most central defenders find themselves out of position and their team without the ball, they sprint as quickly as they can back to the safety of their back line. But Luiz, the most exhilarating center back to watch in soccer, is different.
Tactics
Brazil are expected to lift their sixth World Cup trophy this summer at home. If they do win—and they should—it'll be because they're unique in their ability to create and sustain absolute chaos on both ends of the pitch.
A Seleçao are known for playing beautifully, flamboyantly, but for years, they also played narrowly. Their strength, their stars, were through the middle, with outside backs Roberto Carlos and Cafu providing the only width on the pitch. But those players are all gone now. And with them went their style of play.
In their place is a new generation of stars with their own unique identity. Much like the rest of the world, Brazil play a 4-3-3 formation. But that's where the similarities end. The 4-3-3 formation, with three central midfielders, is designed to dominate the center of the pitch through numbers. But Brazil have adapted it to fit their strength, which is on the wings.
Left back Marcelo and right back Dani Alves are two of the best and most aggressive attacking outside backs in the sport. When Brazil have the ball, both push high up the pitch. They're both dangerous sources of early crosses, but both also look to get behind the defense themselves to get to the end line or go ahead and score. When they push high, they act as wingers, and the formation can morph into a 3-4-3, 2-5-3, 2-4-4, or even 2-3-5. When one or both make the decision to get forward, Brazil's wingers move more centrally, closer to the central forward, and an opponent's back four quickly can become outnumbered.
What's scary is just how fast Brazil can get forward to overwhelm a defense on the break. Brazilian teams of the past employed a slower tempo. Though they looked to score, and were one of the most exciting teams in the world, they were often fine with keeping the ball until there was a hole to exploit. But much of this current squad's menace is in its ability to break and counter up the field faster than teams can recover. Without a superstar center forward like a Ronaldo, Brazil instead rely on center forward Fred. He more or less does two things very, very well.
The first thing is that he scores goals. Even after scoring five goals in five matches in last summer's Confederations Cup, European clubs shied away from signing him, because he's kind of old as shit and leaves a bit to be desired as an all-around player. But he's the type of player that's born, rather than made. He's a poacher, with the instinct, intelligence, and also the necessary sliminess to seemingly always slip into scoring positions. Look at this goal.
That is Fred.
But also, at nearly 6-foot-2, Fred is a large target, and because Brazil are more direct, he's often used as an outlet to start the attack. Instead of short, methodical passes down the field, a teammate can drive a long pass into his chest or feet, and he's strong enough to hold off defenders while players like superstar left winger Neymar, Hulk on the right, and Brazil's number 10, Oscar, catch up.
That trio, along with Marcelo and Alves, is dreadfully fast, and they're not afraid to throw players forward to create and exploit man advantage. What sets Brazil apart, though is the creativity in which they add to their attack.
Though most teams that employ a 4-3-3 are vying to dominate the center, few managers are afraid to let an outside back get up the pitch to put if it suits them. This can be defended, though, and it's usually as easy an opposing winger tracking back to mark the defender.
But as we highlighted earlier, the extra man surging forward can be anyone in the squad, even their center backs. This style of play over the course of 90 minutes (or 30 days) is largely thought of as impossible, or at least unsustainable. But there are two things that make it possible for Luiz to go on what most of the world considers suicide missions: Brazil's high pressure, and their central midfield.
It seems like Brazil are begging for counters from opposing teams by throwing so many players into the attack. If an opposing team was allowed to pick out a long pass to an attacking player, Brazil's undermanned defense would be in deep shit. But Brazil don't allow that pass to happen, because when they lose it, they press harder and higher than any other team. It's one thing to win it from Brazil, but quite another to work the ball back up the pitch.
If Brazil's opponent does find a way to counter, however, they still have to navigate the Brazilian midfield. Most 4-3-3 teams play with an anchor and two attacking midfielders, or two pivots, and a number 10. Brazil have an attacking midfielder in Oscar, who combines with the front three. But any two between Luiz Gustavo, Paulinho, and Ramires, Brazil's grunts, are what keeps everything together. When David Luiz, Silva, or an outside back venture forward, one or both of the players close ranks, filling in for the gallivanting teammate and any holes in the defense.
They also have license to get forward, especially Paulinho. When Paulinho follows Oscar into the box late, Brazil could have as many as seven players in and around the box, moving around and off the ball, and generally creating havoc that can only end in a goal.
Ultimately, the tactical concoction of high pressure, direct play, and throwing players into the box from all over the pitch for a month straight is only sustainable if you have the best players in the world, who also happen to be the best, best-conditioned athletes in the world. Brazil do. Furthermore, they're in Brazil. The hot, steamy winter won't bother them as they will players from other nations. They'll have an entire nation behind them. They're the best team in the world. Not only are Brazil favored to win on home soil, but it'll be a shock if they don't.
Group A Fixtures
All times Eastern
June 12, 4 p.m.: Brazil vs. Croatia at Arena Corinthians
June 17, 3 p.m.: Brazil vs. Mexico at Estadio Castelão
June 23, 4 p.m.: Cameroon vs. Brazil at Nacional
Complete Group A Previews
Croatia | Mexico | Cameroon | Full Archive
*Ranking is bullshit
---
Screamer is Deadspin's soccer site. We're @ScreamerDS on Twitter. We'll be partnering with our friends at Howler Magazine throughout the World Cup. Follow them on Twitter, @whatahowler.
Top image by Jim Cooke; photos via Getty