As Geno Smith heads into his first NFL offseason, he's unwittingly starred in a valuable PSA: If you come to the Jets, think long and hard before sending pictures of your penis to women, because the world will see it.
Everything started with such promise. The Jets finally had a quarterback who wasn't Mark Sanchez! And Geno Smith found himself with a chance to start as a rookie on a team with an imposing defense. But optimism, as it so often does in Florham Park, quickly faded to a sickly shade of hunter green. In a 32-team league, Smith finished 34th among qualified QBs in yards per game, and just one off the conference lead in interceptions. He showed improvement, especially in turnovers, down the stretch, but at the year-end wrapup press conference, Rex Ryan and GM John Idzik wouldn't commit to Smith as the team's starter next year.
"We're all excited about having Geno as part of the Jets but we will always look to improve every position in any manner we can and that doesn't change going into 2014," said Idzik, the first-year general manager. "We'll look at quarterbacks, yes we'll look at quarterbacks."
Also looking at quarterbacks: ladies. Yesterday, the site Baller Alert ("For Women Who Want The Ballerific Life") published an account from an Atlanta woman who claimed to have had a fling with Smith over the last month, flying out to see him for unprotected sex in Charlotte, and again in New York over Christmas, before ending the relationship upon learning that he had a girlfriend. The post has been removed, but a cached version is available here.
"I logged on to my instagram about a month ago & seen that Geno had followed me. I looked to see who he was & I saw pics of him & Jay Z & saw that he played in the league so I followed back. Immediately he wrote under one of his pictures & asked for my #. I gave it to him & he contacted me asap. So we were talking via facetime for like 2 weeks then He told me to come to Charlotte for his game. Thats when I first actually met him in person. Long story short we had sex at the Marriott. We continued to talk via text & facetime then he told me to come to NYC for Christmas so I did. All this talking & texting, he NEVER mentioned a girlfriend. I went to his house Christmas day, we had sex & I spent the night. I finally found out he had a girlfriend after snooping around on his close friend page. And he didnt officially tell me he had a girlfriend until we fell out recently. So he is a asshole, who has a girlfriend but literally BLOWING me up to come see him. And we had unprotected sex. Smh but he never mentioned a girlfriend not once !These athletes are disgusting & cheaters. I blame myself too! He deleted his Instagram page because of me. He even offered to pay me not to talk but I dont want his money now."
G/O Media may get a commission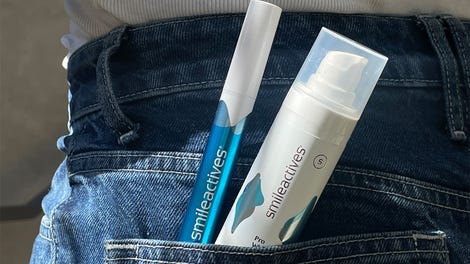 58% off
Whitening Powerhouse Pen & Gel Duo
The woman used her real name (or at least her real Twitter/Instagram name, which in this world is basically the same thing), and is catching crap from Jets fans for this. But she included screenshots and pictures of what she says are conversations with Smith, and even the money shot: a Facetime dong selfie. Click here for it (NSFW, obviously).
Smith joins an illustrious line of Jets QBs who've had their low points with women shared for all to see, succeeding Sanchez and Brett Favre, and dating all the way back to Joe Namath. A Browning Nagle sex tape seems inevitable at this point. Whatever the validity of this Ballerific lady's account, let's use this opportunity to remind all current and future Jets signal-callers to keep it in your pants.