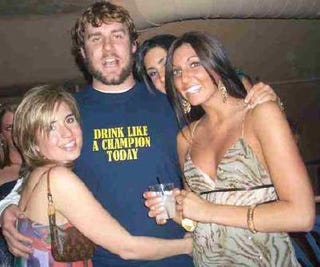 We enter Day 2 of the post-Leitchian era on Deadspin and today (hopefully) there will be no more unforeseen meltdowns.
A few things:
Weekend editors: Yes, there will be a shift in the lineup come August and there are open slots. If you'd like to apply to sacrifice a couple of days each month to be part of Deadspin's new regime, please send all inquiries to ajd@deadspin.com. Can't say I'll answer all of them this week, but you will be given the Italian once-over to see if you're the right fit. Yes, this means the studly triumvirate of Unsilent Majority, Matt Sussman, and Christmas Ape will no longer have weekend duties come August - but they will not be gone from the site. No, each will be given a more prominent role to better utilize their amazing talents, unflagging dedication, and masterful dick jokery. Once all of those roles have been finalized, I'll let you know.
Blogdome: No, it hasn't gone away. It's just in the process of being made over to better highlight some of the lesser known sports blogs out there and get them the attention they deserve. It will return next week. Promise.
Weintraub: TBD...
Commenters (AGAIN): Prospective commenters should, again, contact your deputized commenting cat herder, Rob Iracane. He can be reached at commentguru@deadspin.com. Every time I get a message in the tips mailbox that asks for comment approval, Rob gets a Roman Helmet. So, please use that address and contact him. His face is starting to smell like a dirty fish tank.
That is all. Any questions or comments, you know where to find me. Rick and I are doing our best to keep content plentiful, but please hit us up with anything you got.
As you were.
Greetings, Spinheads [Deadspin]