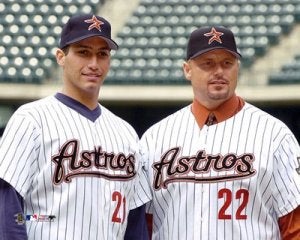 And not in a good way. The Los Angeles Times is reporting that Clemens, his good pal Andy Pettitte, and Miguel Tejada were among those accused of using performance-enhancers in the Jason Grimsley affidavit. Brian Roberts and Jay Gibbons, too. So much for Clemens getting through his career without ever being officially linked to performance-enhancers.
The Times says they got access to a non-redacted version of the document in which former Arizona Diamondback Jason Grimsley identified Major League Baseball players who used drugs. Grimsley, according to them, told investigators that Clemens and Pettitte used "athletic performance-enhancing drugs," (which could be anything, really) while Tejada, Brian Roberts, and Jay Gibbons "took anabolic steroids."
Of course, the Times also says that Grimsley's told friends of his that federal agents have misrepresented what he said. So, naturally, nothing's even close to being conclusive, but when is it ever? Gibbons and Tejada have already issued denials, and so has Clemens' agents.
My position has on steroids in baseball has long been that I just don't care. I'm a steroid agnostic, at least in terms of crucifying players who have used. It's not that I'm not disturbed by rampant steroid use in sports, it's that I've just accepted that we're never going to know for sure who did it and who didn't. I'm not going to get mad at a player who gets linked to steroids when the fact of the matter is that I've probably cheered in the past for guys who hit home runs just minutes after pulling a needle out of their ass.
More on this in the coming days, I'm sure.
Clemens Is Named in Drug Affidavit [Los Angeles Times]
Strap In For The Grimsley Express [Deadspin]