Winning tends to heal all wounds in the world of sports. Regardless of the content of your character, people are more likely to remember the athletic highs of your sporting career because the image of lifting trophies tends to be easier to stomach socially than, say, keeping an accused domestic abuser on your staff.
The latest example of this phenomenon came in Ohio State's 62-39 rout of Michigan with fan-favorite announcer Gus Johnson. Throughout the entirety of the broadcast, Johnson did a lot to frame this emphatic win over an arch-rival as some sort of necessary redemption story for coach Urban Meyer. The Buckeyes coach didn't just bring his team's playoff hopes closer to reality with this win, he also "overcame" a "challenging season" filled with so much turmoil for his program.
Not only was it tone-deaf, it was entirely unnecessary. Dwayne Haskins picked the Wolverines defense apart for 318 yards and five touchdowns, Chris Olave was a breakout star, Jim fucking Harbaugh's "redemption tour" had come to a screeching halt and was thoroughly embarrassed on national television. Any of those topics would have made for better commentary than stroking the comeback narrative that Meyer had supposedly created for himself—especially the ones focusing on the actual athletes who play the game.
To some, this didn't exactly come as a surprise. Johnson once tried to make Penn State's Big Ten Championship win also appear as a redemption story for the team, as if winning a trophy could make people forget all about the decades of horrible crimes that Jerry Sandusky committed towards children.
G/O Media may get a commission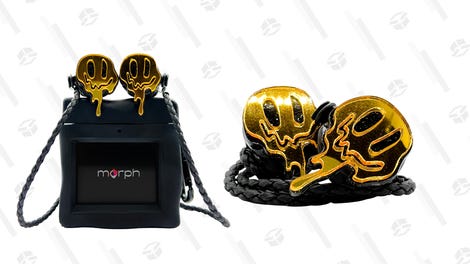 morph audio
Morph Earphones
There's always an argument to be made that people turn to sports to escape the bleak realities of the world, and just let their mind sit on autopilot, so it's best to keep these issues out of whatever is happening on the field. Fine, but then media members can't get swept up in the emotion of what's happening to the point where such a definitive character flaw can be exorcised just because one team scored more points than the other. It just shouldn't work that way.