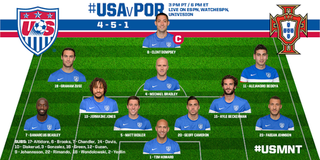 Looks like the Iceman will still cometh off the bench, with Jürgen Klinsmann opting to add to the midfield instead of bringing in a new striker to replace the injury Jozy Altidore.
Gone is the 4-4-2 diamond we've come accustomed to seeing in recent US games, and in its place is the 4-2-3-1 we saw a lot of in qualifying. Clint Dempsey will play alone up top, with Graham Zusi stepping in Altidore's missing spot in the lineup. Klinsmann likely thought neither Aron Jóhannsson nor Chris Wondolowski could readily replace Altidore's hold-up play, so he might as well add some more creativity in midfield rather than feature an extra forward.
The back four that managed to hold out Ghana returns, though the prospect of DaMarcus Beasley defending either Portugal's Nani or—God forbid—Cristiano Ronaldo should terrify USMNT fans. Still, we've come this far, let's go ahead and do what needs to be done. A win and we're into the next round.
Image via Twitter