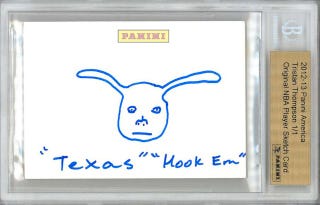 The...thing you see above is supposed to be the Texas Longhorns logo, drawn by Cleveland Cavaliers sophomore Tristan Thompson, who played college ball at the University of Texas. Instead, it resembles a morose man-bunny.
The depressed Life In Hell reject was brought to you by Panini, the card company, for their 2012 Rookie Transition Program. We've showcased some young NHL players' work before, so now we can see if the NBA players' attempt was better or worse. Let's browse a few.
Former UConn center Andre Drummond wrote his university's name and drew a dog on fire throwing up a hot dog.
Michael Kidd-Gilchrist also went with drawing his university's logo. And some lines. Are they wildcat scratches? They look more like an unintentional dong.
If Enes Kanter aimed to terrify, he succeeded. Nightmare Wildcat is now the most intimidating college mascot.
No, Andre Drummond. Stop it. Please.
You can look at the rest of the drawings on Panini's site. It is definitely worth it.