After poor performances from New England's rookie WRs Aaron Dobson and Kenbrell Thompkins through two weeks, some reactionary writers did what they did best: They flipped the hell out.
One of the recurring suggestions for how to fix the young, inexperienced receiving corps (besides patience): Terrell Owens. The 39-year-old receiver should at least be tried out, said some people. The Pats have benefited from giving second chances to players with off-the-field issues before, said others. Look how well Randy Moss did!
Two weeks was clearly enough time for Dobson and Thompkins to establish themselves as busts. But then they combined for 10 catches, 93 yards, and two touchdowns today against the Buccaneers. Oops! Sure, they had a couple of drops, but the fact that Tom Brady kept throwing to them certainly seemed to help their confidence. Brady made mistakes, too.
G/O Media may get a commission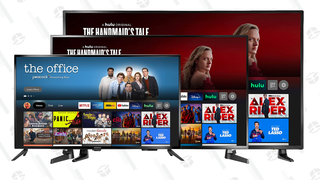 Up to 44% off
Prime Early Access - Insignia Fire TVs
It's not worth spending more than a couple of sentences explaining why bringing Owens in would have been awful, and it has nothing to do with "off-the-field" issues or "distractions." Owens is in great shape, but he's old. And even if he became Moss 2.0 with the Patriots, he's obviously not a long-term solution. Dobson and Thompkins could be, if given more than a two-week trial to prove themselves and learn. Not giving the two reps against soft teams like Tampa Bay in Week freaking 3 would have made everything worse.
The expectations for rookies are at unrealistic levels, especially with how well the 2012 NFL Draft class has turned out so far. There's no time for waiting or development. Combine that with the reactionary nature of the New England media, it's no wonder that, in one week, Terrell Owens to the Patriots was actually considered a legitimate, sound idea. But you know what? Rookies sometimes struggle. Chill out.