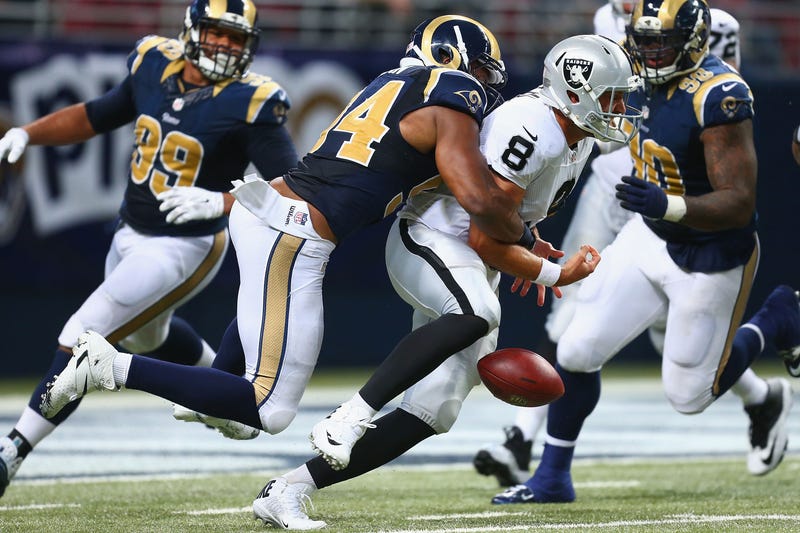 Poor Matt Schaub found himself back in the funny pages yesterday. With Oakland already trailing St. Louis 42-0 in the fourth quarter, Schaub entered in relief of Derek Carr and promptly fumbled on a sack for a turnover, threw yet another pick-six on the following drive, and fumbled again for good measure on the next. The Raiders would run three times to end the game on their final possession, but the Matt Schaub cameo in the mollywhopping of the week was already in the books. The subtext to the punchline is that the league has never been more ready for a run like this, and by the height of the trend, Schaub had evolved into just the right sucker to eat it.
Last year, Chase Stewart at Football Perspective explained that while the league's interception rate has fallen, touchdowns off of interceptions are far more common in today's game than they have been historically. This coincides with the rise in short passes, and that follows logically—short passes are harder to intercept, but an interception in the flat is probably a touchdown. Here's his chart showing the rise through 2012:
Last year continued the trend, with 65 pick-sixes on 502 interceptions for a rate of 12.9 percent. So far this year, we're at a rate of 10.4 percent (35 TDINT/336 INT). So the climate makes sense for Schaub to keep on doing whatever it is he's been doing. And the way his game was going, he ran into this as a head-on collision.
When the Texans were struggling on offense early last year, ESPN Stats & Info put together a package on Schaub. Here's what his play-action distribution looked like through three weeks:
This played out over the full season. For the year, Schaub was the worst among all quarterbacks in difference in yards per attempt on play-action, according to Pro Football Focus. Schaub was actually 0.8 YPA worse on play-action than he was simply dropping back to pass—only Geno Smith and Matt Ryan were also in negatives. (This season, Kyle Orton and Austin Davis are both losing more than two yards per attempt on play-action.)
That's how it happens. Plays that were once a chance to drive the ball down the field to guys like Andre Johnson or Jacoby Jones were now just flaccid outs and flares waiting to be taken to the house. (It's chicken-and-egg, but Johnson's average reception yardage has been in decline since 2011 as this was happening, too, and was a then-career-low last season.) And so Schaub threw a pick-six in four straight games and was booed off the field after he went down with an injury, and has picked up the tune this year.
Yesterday's pick-six wasn't off of play-action—Schaub was scrambling left, and didn't see a defender in the flat as he threw to the left sideline—but it flexed a lot of the same where did that underneath defender come from muscles.
Incredibly, though, his four pick-sixes in a truncated season and one this season wouldn't even put him on top of the picks-most-often-turned-into-TDs pile if you blew it out over a career.
There isn't an official list of TDINTs thrown, but Pro-Football Reference and Chase Stewart have both taken a crack at it, and they line up more or less accurately next to each other. Stewart's is more recent, so we'll reference that here. Schaub's thrown 16 INTs over the last two years, with five TDINTs—a rate of 31.25 percent. By Stewart's count, Chris Redman threw five pick-sixes on 14 career INTs, for a rate of 35.7 percent. He only threw 500 career passes, so a full one percent of the time that Redman dropped back to pass, he threw a touchdown to the other team.
Photo via Getty