It's over. They lived, they loved, they all said things they can never take back, but in the end, it was never to be. Jake Peavy will not be a Cub.
Kevin Towers and Jim Hendry danced all night but in the end there's only one person to blame—Jason Marquis. That's right, the Cubs passed on a chance to land the best free agent pitcher under 300 pounds, because they didn't want to eat more than 50% of Marquis' contract.
Or to hear Peavy's agent put it—the Padres are insane and asked for way to much. The Cubs were pretty much the only option for them to move the pitcher and now Peavy will likely be starting for San Diego on Opening Day. So good job all around.
Padres, Cubs Set To Quit Each Other [Rumors and Rants]
Agent: 'Padres asked for too much' for Peavy [Chicago Tribune]
What else happened today?
• As mentioned before, the Mets got slightly less terrible. The Phillies are unimpressed. [Jets and Mets]
G/O Media may get a commission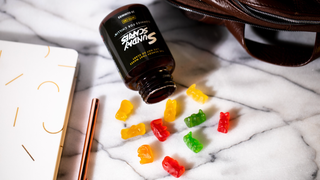 10mg CBD Gummies (22-Count)
• Does anyone else think that the Nationals offered Mark Teixeira an 8-year, $160M deal as a joke and are secretly praying he doesn't say yes? [Nationals Enquirer]
• Believe me, if there's any player on Earth who understands inflation, it's C.C. Sabathia. [Royals Review]
• How big are the Yankees balls? They paid $160 million to take C.C. away from Milwaukee, then they offer them Melky Cabrera for Mike Cameron ... and ask the Brewers to chip in for Cameron's salary. That's how big. [NY Post]
• And they want A.J. Burnett too. [ESPN]
• Nick Punto finds the free-agent market not to his liking, re-signs with the Twins. [AP/Yahoo]
See also:
• A sneak peek at Omar Minaya's notebook [Updated] [The 'Ropolitans]
• Yellow journalism: Finding leaks at MLB's winter trade show [Big League Stew]