If you follow mixed martial arts long enough, even at a casual level, and if you are capable of feeling shame or outrage, the sport will eventually embarrass you. For those of us who follow the sport intently, especially those of us who deeply love it, this is a regular, sometimes daily, occurrence. Awful, ridiculous, and generally unbelievable shit happens; we process it, cringe, maybe snark or caterwaul impotently, and wonder why we keep watching; and then we tune in for the next alluring fight, starting the process anew. The repetition of this ignominious cycle sets the bar for notable disgrace pretty damn high.
Which brings us to Saturday's UFC card, the 2014 edition of the promotion's annual Fourth of July weekend extravaganza.
On a fight scene increasingly saturated with watered-down cards the talent pool can't fill out and sorely lacking in marquee stars, UFC 175 stands out. It's not a spectacular card, but it's anchored by two title fights, and that's generally a good thing.
The headline bout is middleweight champion Chris Weidman defending against Lyoto Machida. It's a great fight. Weidman is the wrestler who twice defeated the previously godly Anderson Silva, and Machida is an evasion savant who changed assumptions about the possibilities for karate in MMA. Both excel at every phase of the game, and this is the kind of fascinating tactical match up that comes along only a few times a year.
G/O Media may get a commission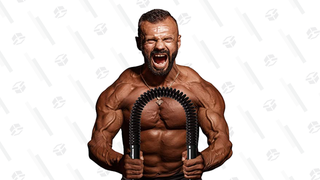 10% off
Zenooze Boa Power Twister
Backing this is another title defense involving women's bantamweight champion Ronda Rousey, one of the sport's biggest potential draws. Rousey, who is about to appear in The Expendables 3 and Fast & Furious 7—hopefully doing as little acting as possible—has real star power. She also happens to be an alpha-athlete nightmare, the most dominant woman in the sport's history. Challenger Alexis Davis has nearly no chance of doing anything here, but she's a legitimate contender, and watching Rousey do her thing is always worthwhile.
As is, the whole package seems to have limited public appeal. Weidman doesn't seem to have stolen Silva's star power, Highlander-style; it's not clear that people care about seeing Rousey in a fairly suspense-free fight; and there isn't much else going on, because the sheer number of events the UFC runs prevents them from running deep cards, even on the pay-per-view shows intended to be their premier level product.
There is, though, a lot more to the equation. For this card to end up in its current state, a seemingly endless series of bizarre and farcical embarrassments had to fall just so. Most of these come back to the issue of performance enhancing drugs, and all the ways in which the UFC and the athletic commissions have never come up with any coherent way of dealing with them.
There is plenty of reasonable—and unreasonable—disagreement about the role and regulation of PEDs in competitive athletics. What most informed people can seem to agree upon is that the current approach to the issue is unsustainable, especially in combat sports, where hysterical moralism and shoddy yet overbearing regulations have produced a worst-of-all-worlds scenario.
What follows here is incredible. The convoluted timeline of events, stretching back years, led to a cancelled fight, a retirement, a firing, plenty of head shaking, and the matchmaking we will witness on July 5th. While I've omitted some details for the sake of brevity, this is still approaching Primer flowchart levels—if Primer were super embarrassing and about performance enhancing drugs and #brands rather than time travel.
---
October 21, 2006
In the midst of one of his countless reincarnations as Old Vitor, or New Vitor, or Post Vitor, Vitor Belfort meets Dan Henderson at a Pride Fighting Championships card. Unfortunately for Belfort, he loses a decision. More unfortunately for Belfort, this fight takes place on one of two cards Pride held in the United States. Unlike Pride's normal operations in Japan, this fight is overseen by the Nevada State Athletic Commission, which tests for performance enhancing drugs but does not, as far as I know, test for foreshadowing.
December 21, 2006
The NSAC suspends Vitor Belfort for nine months and fines him $10,000 due to a positive test for a banned substance, anabolic steroid 4-hydroxytestosterone, following his October fight with Dan Henderson.
February 24, 2007
For his next fight against Wanderlei Silva, Dan Henderson—a teammate of Chael Sonnen at the Team Quest camp—becomes the first known fighter to receive a therapeutic use exemption (TUE) for testosterone replacement therapy (TRT) in Nevada, unknowingly signaling the start of MMA's sudden hypogonadism outbreak. More would follow.
August 7, 2010
Chael Sonnen meets middleweight kingpin Anderson Silva for the title at UFC 117. Sonnen had long been known as a good, boring wrestler with porous submission defense and a penchant for getting finished by Jeremy Horn (0-3 lifetime), but something changed. His striking improved, his wrestling was sharper and more suffocating than ever, and he had unexpectedly taken on a strange pro wrestling persona, stretching the limitations of kayfabe and spitting bombastic promos. This schtick would eventually grow increasingly grating and offensive, but at first, at least, it worked masterfully—not least because he backed it up, dominating Dan Miller, Yushin Okami and Nate Marquardt, and talking his way into a title fight.
The fight is shocking. Sonnen takes down Silva almost at will, lands some punches standing, and for 23 minutes generally beats on the champion in a way that no one ever has. With two minutes left in the fight, on the cusp of a monumental upset, Sonnen's defensive grappling liabilities rear their head yet again. His focus wanes for just a moment, and Silva frames up a last ditch triangle choke, cinches it up, and forces a dramatic tap to retain his belt.
September 22, 2010
The California State Athletic Commission releases a statement announcing that they are suspending Chael Sonnen for one year due to an August 6 drug test sample with "high T/E (testosterone-to-estrogen) [sic] level, which is indicative of anaboloic [sic] steroid use."
December 2, 2010
Chael Sonnen attends a surreal debacle of an appeal hearing with the CSAC, where he proclaims that he's been undergoing testosterone replacement therapy for hypogonadism he was reportedly diagnosed with in 2008. He and his doctor make all sorts of outlandish, unverifiable statements, and the commission acts bizarrely. Sonnen claims that he declared his testosterone usage to Keith Kizer, head of the Nevada commission, who may or may not have told him he was totally cool and never had to declare anything again. He also claims to have disclosed this again to California before his fight against Yushin Okami, but not for any fights before or after. It's bedlam. For no readily apparent reason, the commission votes to reduce Sonnen's suspension to six months, but upholds a $2,500 fine.
January 3, 2011
Chael Sonnen, who like most fighters is also a licensed realtor in his home state of Oregon, pleads guilty to felony charges of money laundering related to mortgage fraud, eventually earning a sentence of two years of probation and a $10,000 fine from a U.S. District court.
May 18, 2011
The situation around Chael Sonnen's CSAC suspension continues to grow increasingly bizarre. Following the December hearing, Nevada's Keith Kizer says, to slightly paraphrase, that he has no idea what the fuck Sonnen was talking about regarding previous TRT disclosures. This causes Sonnen to modify his story, and the CSAC says they have no record of Sonnen ever declaring anything. Eventually Sonnen's original six month suspension expires but in light of the money laundering charges and his questionable previous testimony, the CSAC does an about face, and puts him back on indefinite suspension.
There is an additional hearing on May 18th, with more confusion, at which it's fair to assume that circus music plays, and eventually it's clarified that his suspension will run until his current license expires in June 2011, at which point he can reapply for a license.
October 8, 2011
Chael Sonnen returns to the cage in his first fight since his suspension. He receives his first official therapeutic use exemption for testosterone from Texas for his fight with Brian Stann, which he wins impressively by arm-triangle choke.
January 1, 2013
Following his fight with Michael Bisping, Vitor Belfort gives an interview with ESPN, where he gives cryptic, evasive answers about whether or not he's ever applied for a TRT exemption. Given his responses, no one is particularly surprised when it eventually surfaces that he is, in fact, also using testosterone. It's unclear exactly how long he's been on the treatment, especially since many of his recent fights have been outside of US athletic commission jurisdiction, but his October 2013 answer of "about three years" in an interview would mean that he may have been on taking testosterone as early as his February 5, 2011 title fight against Anderson Silva. There are serious questions about whether or not Belfort would be allowed to use TRT for a fight in Las Vegas, due to his previous drug test failure, and increasing criticisms of the UFC for booking him primarily in non-US jurisdictions.
October 22, 2013
Dana White announces to Chael Sonnen, who has inexplicably become a studio talking head for Fox and the UFC, that the coaches for the upcoming Brazilian season of The Ultimate Fighter will be Chael Sonnen and Wanderlei Silva.
It's worth taking a moment to reflect on the full ramifications of this. After failing a drug test, making dubious statements involving two different state athletic commissions, becoming a convicted felon, and spending several years spitting varying degrees of hateful, retrograde, often xenophobic bile, Sonnen is rewarded with three unsuccessful title shots in two weight classes, a high profile job on the mic as a television analyst—where he generally acts like he wants to give you a sweet deal on an early model Saturn—and a coaching gig on the UFC's reality show. (It should also be noted that when Sonnen isn't method acting as a caricature of himself, which is increasingly rare, he's capable of interesting, penetrating analysis, considerable kindness, and candid, emotional post-fight interviews.)
As is the tradition, Sonnen and Wanderlei Silva will meet in a fight when the season of the reality show is done.
February 1, 2014
A middleweight championship fight between Chris Weidman and Vitor Belfort is announced for May 24 at UFC 173 in Las Vegas, Nevada. Belfort's impressive run of head kick knockouts against Michael Bisping, Luke Rockhold, and Dan Henderson—their rematch, a fight notable for both fighters being on TRT—earns him the title shot, but a cloud hangs over Belfort's resurgence. These wins have come for a man past his 35th birthday, who has previously failed a test for steroids, and who's experiencing a late-career reinvigoration while on controversial testosterone treatment.
February 27, 2014
In a unanimous vote, the Nevada State Athletic Commission bans testosterone replacement therapy from combat sports and nullifies all therapeutic use exemptions. This is viewed by many as the long-overdue closing of an obvious loophole in drug regulation. The UFC announces they will follow the NSAC's lead for any international shows that they regulate themselves. Other states are free to handle the situation independently, but it is assumed that many or all will follow suit.
February 28, 2014
Vitor Belfort, citing the testosterone use ban and the limited window of time to drop his TRT program before the fight, withdraws from his title fight with Chris Weidman. Lyoto Machida is announced as a replacement to face Weidman.
March 24, 2014
A training injury necessitating minor surgery to Chris Weidman's knee postpones the title fight with Lyoto Machida from UFC 173 to July 5th at UFC 175.
April 7, 2014
Chael Sonnen vs. Wanderlei Silva, which was originally linked to UFC 173, and then rumored for the TUF finale, is moved to the UFC 175 card, joining Weidman vs. Machida.
April 13, 2014
The sixth episode of The Ultimate Fighter airs, during which Chael Sonnen and Wanderlei Silva get into a possibly spontaneous, but somewhat sketchy looking and definitely ridiculous brawl. (All it was missing was henchmen yelling "World Star!") This is the pro-wrestling-story-arc culmination of a trash talking rivalry that started with Sonnen disparaging the entire country of Brazil in the lead-up to his fights with Anderson Silva. The scuffle is used as marketing material to hype the reality show and their upcoming fight. Rounding out the ludicrousness of the entire incident, Dana White claims that their fight was rescheduled to UFC 175 at least in part because Silva injured his wrist, which would turn out to be fractured, during the brawl.
May 28, 2014
Multiple sources, including, yes, Chael Sonnen, report that Wanderlei Silva will not be licensed by Nevada, due to the fact that he did not properly apply for a license and may have missed a drug test. Silva is pulled from the fight with Sonnen and replaced with—wait for it!—Vitor Belfort.
If you've somehow managed to keep up with the three-card monte up to this point, you're now coming to a stupefying realization. Belfort, a fighter who has previously failed a drug test, and who gave up a title fight with Chris Weidman in Nevada due to time constraints in transitioning off of TRT, will now be fighting Sonnen, a fighter who has also previously failed a drug test and who is also being forced to come off of testosterone. They will be fighting in Las Vegas, Nevada on the same card headlined by the title fight between Weidman and Lyoto Machida. This is happening, ultimately, because another fighter avoided a drug test. This is PED Inception.
Silva releases a confusing video, claiming that the whole incident is a misunderstanding, in part due to the language barrier.
Sonnen claims on UFC Tonight that, strangely, his fight with Belfort will be contested at light heavyweight, but will decide the number one contender for the middleweight title.
May 30, 2014
Dana White states that the proposed Chael Sonnen vs. Vitor Belfort fight would in fact be held at middleweight.
June 3, 2014
Chael Sonnen, upon hearing that the Vitor Belfort fight might be at middleweight, asserts that he has a contract for a fight at 205 pounds, and expresses what seem like totally reasonable concerns about his ability to cut approximately 50 pounds in around a month's time.
June 10, 2014
ESPN reports that Chael Sonnen has failed a random drug test, and that the fight with Vitor Belfort is off. There is a collective boom, as everyone's mind is blown. Sonnen, it turns, tested positive for the banned substances anastrozole and clomiphene in an NSAC test administered at a UFC news conference on May 24th. Sonnen makes another series of strange and inaccurate statements—and is repeatedly apologized to by a Fox Sports guy when he takes to the air for a long, bizarre interview—but it appears that he was using the anti-estrogenics as part of his transition off of TRT. Meanwhile a Reddit user posts the following chart:
June 11, 2014
Chael Sonnen, in his capacity as pundit, announces (and then, weirdly, analyzes) his own retirement from mixed martial arts, referencing concerns about his fertility and his ability to be a father.
June 17, 2014
Wanderlei Silva appears before the NSAC. It does not go well. The commission clarifies that the issues with his licensing were due to his refusal to submit to a random drug test and details his evasion, including the classic sitcom move of ducking out of the back of a gym while a tester was waiting. Silva's representatives reveal that Silva was using diuretics—"for the sole purpose of minimizing the inflammation (in his wrist) to decrease the water retention"—when the test was requested.
Yes, that is correct: the official explanation is that he ducked a random drug test because he was taking illegal diuretics to treat swelling in the wrist that was fractured in a rather pro wrestling-style brawl with Chael Sonnen on a reality show. This is a now a Seinfeld episode about performance enhancing drugs.
What actions the NSAC will take against Silva are undetermined.
June 18, 2014
The Nevada State Athletic Commission temporarily suspends Chael Sonnen, and will hold a hearing to hear his case at a later date. Though Sonnen says he plans on staying retired, he also plans on attending the hearing and going on the record on the topic.
June 29, 2014
During a UFC card in San Antonio, Ariel Helwani breaks the news of a second random drug test that resulted in Chael Sonnen testing positive for four different banned substances. The NSAC took urine and blood samples from Sonnen in Portland, Oregon on June 5th. These samples came back with positive results for human chorionic gonadotropin (hCG), anastrozole, human growth hormone (HGH), and recombinant human erythropoietin (EPO). The latter two substances, especially, have major ramifications.
Following the event, UFC flack Dave Sholler gives a statement. The UFC is aware of the results, Sonnen will be appearing before the NSAC on July 23rd, and the UFC "will support the commission and continue to ensure that all competitors compete on a level playing field free of performance enhancing drugs."
June 30, 2014
MMAjunkie reports that Chael Sonnen has been released from his position as an analyst. Later, Fox Sports and the UFC release this statement:
The UFC and FOX Sports organizations announced today the termination of their respective broadcasting services agreements with analyst Chael Sonnen. This decision comes in light of Sonnen failing a second test conducted by the Nevada Athletic Commission for banned substances in June. Sonnen was previously under temporary suspension by the Nevada Athletic Commission for failing an initial test conducted in May.
I have no idea how to feel about this.
The UFC's choice to intertwine their brand with Sonnen was dubious from the jump. (Fox's was even more so.) However, once they did, they were more than content to roll with two failed drug tests, a federal money laundering conviction, and a torrent of nationalistic rhetoric, so long as he was putting asses in seats and exciting the demographic that likes both WrestleMania and unironically complaining about the real racists.
He asked to touch the hair of Sage Steele, who was interviewing him at the time and happens to be an African-American, on SportsCenter. He called Jon Jones, a UFC champion who also happens to be African-American, "boy." He asserted that Lance Armstrong was a "fraud" who "gave himself cancer," and then denied saying it even though it was recorded, before testing positive for banned substances multiple times himself. He claimed he didn't know they had computers in Brazil, that in São Paulo cocaine is called "brunch," that Brazilian fighter Antônio Rodrigo Nogueira confused a bus for a horse and tried to feed it a carrot, and told Brazilian manager Ed Soares to "pray to whatever Demon effigy you prance and dance in front of with your piglet tribe of savages." This, and so, so much more, was not just accepted but at least tacitly encouraged and richly rewarded, as long as he was selling the fights.
Monotonous blanket wrestler Chael Sonnen was in constant danger of meeting the same toil-until-you're-discarded fate as Jon Fitch, Jake Shields, and Yushin Okami. Chael P. "The American Gangster" Sonnen—bootleg spawn of Ric Flair and Bill O'Reilly—was a star.
Somehow, after all this, yet another failed test, the results of which arrived after Sonnen had already retired from fighting, was a bridge too far and crossed a line that demanded immediate termination? There's no need to cape up for a guy who's been caught repeatedly cheating the (admittedly totally nonsensical) system, and whose toxic bullshit should have disqualified him from the job in the first place. There's even less need, though, to praise the UFC and Fox for "doing the right thing" or "sending a good message" when they were the ones who created this monster in a horrible #brand lab accident and then gladly profited off of it. Add to this that the UFC continues to utilize the services of other fighters who have failed multiple tests, including Josh Barnett, who's responsible for an infamous trio of positive tests and is now doing a podcast for Fox Sports, and the picture gets even murkier.
There is a limited number of constructive or amusing things left to say about this whole surreal mess.
July 5, 2014
Given the history and the time left for something else humiliating to happen, I'm not that comfortable making any predictions, but in theory UFC 175 will take place Saturday in Las Vegas, Nevada. Chris Weidman and Lyoto Machida will fight for the middleweight belt. Allegedly, Chael Sonnen, Vitor Belfort, and Wanderlei Silva will be absent from the card. The results of the weekend's drug tests will be anxiously awaited.
---
Josh Tucker sometimes writes words. He mostly enjoys watching humans fight professionally, but is pretty conflicted about it. He's on Twitter @HugeMantis.
Photo via Getty