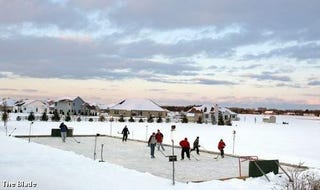 We take you now to Lake Township Ohio, where the Mauders will see your replica Eagles field, and raise you a backyard hockey rink.
Finally, no more breaking and entering at the local recreation center, or falling through the ice like George Bailey's brother in It's a Wonderful Life.
For eight years, Troy Mauder has built an increasingly sophisticated backyard ice rink for his two sons to practice on, as well as for friends, relatives, and other neighborhood children to use. Hockey nets with backstops, portable lights, and music complement the ice, which has geothermal pipes underneath to help pull heat from the water so it freezes faster.
But forget the rink: I'd actually like to see a photo of the Zamboni.
Mr. Mauder even devised a hand-pushed device with squeegees, broken shovel handles, and PVC piping so he can spray water on the ice and resurface it every night, sort of a common man's Zamboni.

"It's really hard to get good ice, to get it smooth," said Mr. Mauder, owner of Mauder Heating & Air Conditioning, which he runs from his home.
The rink is 100-feet-by-40-feet, which is more your speed than a regulation one would be. Admit it. Also, there's virtually no chance of seeing this, which is another plus.
Home hockey rink very cool. Stop. This office authorized to advance you much kudos. Stop. Hee Haw and Merry Christmas — Sam Wainwright.
Slapshots Reign In Backyard Rink As Play Heats Up [Toledo Blade]