At long last, some good news for FC Barcelona. Both Barça and Borussia Dortmund have now officially announced their agreement to send budding French superstar Ousmane Dembélé to Spain for a staggering fee that could reach as high as €145 million. And as far as news for Barça fans goes, this really couldn't be any better.
Before getting to anything else, the most important thing to note here is that Dembélé is extremely fucking good. He is really young (20), yes, and a little raw with lots more work to do before he becomes the complete player his skillset projects him to be. But even right now, today, he is one of the best forwards in the world.
Dembélé is great at creating goals and scoring them, at blowing past outmatched defenders with his speed and at slinking by them with silky dribbles that cannot be predicted or stopped, at transitioning play from the less dangerous areas of the pitch into the heart of the action with his dribbling and passing and movement, and at using all those aforementioned abilities to absolutely terrorize opposing teams when the ball does gets into or near the box. That he is young and raw with room to grow says less about his current ability—which is already remarkable—and more about just how astounding a player he should be in a few years time.
Which brings us to the next point: €145 million for a talent like this is worth every cent. The transfer fee, as both clubs note, is broken down into two parts: a fixed €105 million and another €40 million in potential bonuses. The bulk of those bonuses are most likely of the easily attained variety, which means unless something disastrous happens, Dembélé's transfer will go down as the second most expensive one of all time, behind the €222 million PSG just paid Barcelona for Neymar. (Well, for now at least. This fee will probably lose its No. 2 spot within a week once Kylian Mbappé leaves Monaco. All three of the most expensive transfers ever in the same window. This summer truly is insane.)
And all of that is perfectly sensible. Players like Dembélé don't come on the market often, and when they do, you have to sign them if you can. This is because, with so many big-money teams around Europe scouring the globe for the next big thing and holding on for dear life once they get them, the transfer market has transitioned from one where snatching up the best available established star was the name of the game to one where locking down the most promising up-and-comers is the smartest strategy.
With all the money in the sport nowadays, signing the world's elite players when they're already elite is prohibitively expensive. (For instance, for as brain-melting as Neymar's fee was, it was actually cheaper than what he is worth. If Neymar hadn't had a release clause and PSG tried to buy him, Barça would've laughed away a €222 million bid even if Neymar wanted to move. It was only the relative fluke of the clause being so low—I recognize how crazy it seems to describe the record transfer fee as "low" but it's true—that Neymar was attainable in the first place. In many respects a prime-age all-time great player like Neymar is priceless to a club like Barcelona.) The only practical ways to get great players is to sign them when they're out of favor at their current megaclub (i.e. Bayern Munich chiseling James Rodríguez off Real Madrid's bench), hoping to luck into a fortuitous release clause situation à la Neymar, or buying great players right as or before they become great. Of all the promising youngsters out there, Dembélé is just about the safest bet to one day soon reach that highest tier of players, the ones who by themselves can make good teams into great ones. So spending a lot to get him—even €145 million—is smart money.
G/O Media may get a commission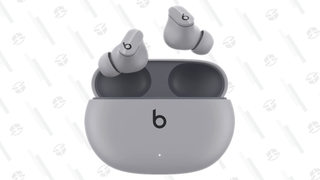 The particulars of Barcelona's current situation also serve to make this an especially wise and important addition. For as massive a club Barcelona are in this current era, historically speaking Barça are more Arsenal than Manchester United. The history of Barcelona is one marked by brief periods of deliriously transcendent greatness, when the likes of Johan Cruyff The Player and Johan Cruyff The Manager and Ronaldinho and Lionel Messi carried the club to the heights the club and sometimes even the sport itself had never seen, bracketed by long, exasperating stretches of mediocrity, acrimony, and turmoil. The Messi Era has been the club's most rapturously dominant period yet, but it is now beginning to come to a close. And there is no definitive way of determining whether the era that follows will be a close approximation of what came before or a return to the darker ages at a time where that could've proven permanently crippling.
Though still incredibly successful, Barcelona are in real trouble. This summer has laid bare this fact, even while the heroics of Messi and his teammates in recent seasons had to a large extent masked it, and now it is clear for all to see. The team has greatly declined, the club's opponents have constantly improved, and nearly every other big club around the world appears to be run by smarter, savvier leadership than Barcelona's current governing board.
Luckily for Barcelona, they still have Messi. The extent of his dominance at this specific juncture in time, when soccer has become a global, multi-billion dollar enterprise in a way it has never been before, has meant Barcelona are now in a rarefied economic stratosphere that, bar aggressive incompetence on the part of those in charge, should solidify the club's status and success for generations to come. For reasons far bigger than the goals he's scored and the trophies he's won, Messi couldn't have arrived at Barcelona at a better time.
And yet Messi won't be here forever. It's imperative that Barcelona transition into their latter day-to-post-Messi phase with a great team to ensure that all the momentum Messi gave them will outlast Messi himself. If they don't, there's a real chance that the even more economically mighty and more intelligently led clubs could pass them by right when the club could've cemented their place as a permanent megaclub. There is a real risk of Barcelona going the way of Liverpool and AC Milan if they aren't careful.
Barcelona believed they had found the sporting and economic heir to Messi in Neymar—though this was always a misguided notion. Playing for Barcelona was never Neymar's ultimate destination; becoming the best player in the world was what he was after, and he was never going to attain that status while playing second fiddle to Messi. Thus it was always a matter of when, not if, Neymar would leave to blaze his own trail rather than follow another's. The Neymar transfer itself hinted at Barcelona's possible future. Why would anyone leave Barcelona for PSG? many wondered in the move's aftermath. And while the initial question at first seemed baffling, subsequent ones clarified Neymar's potential thinking and Barça's long-term dilemma.
What are Barcelona besides Messi? Is the club led by people who look capable of ushering in a new era of success without relying on the Argentine cheat-code to bail them out? Are the likes of André Gomes and Denis Suárez and Gerard Deulofeu the kind of teammates a great player would want to commit his long-term future to? Is it worth spending another three or four years with a declining group in Messi's shadow instead of leaving for a more ambitious project elsewhere, even at a place lacking the prestige and legacy of Barcelona?
That an upstart outfit like PSG could steal Neymar away from Barcelona felt telling. That Barcelona looked so lost afterwards—that they struggled so mightily to identify and then prise away one or two world-class talents to compensate for Neymar's departure—also felt like an omen. Maybe playing alongside Messi was no longer the reward it had so long appeared to be, or maybe it was that Barcelona just weren't able to surround him with teammates befitting his level anymore. They couldn't talk Marco Verratti out of leaving the shitty French league, or take Philippe Coutinho off of Liverpool, or even make sure to land Dembélé from a selling club like Dortmund? Hell, maybe Messi himself would become so disenchanted by his rapidly deteriorating surroundings and get out of town as soon as possible, and who knows what would happen then. For the first time during this stretch of sustained success orchestrated by Messi, the club had to confront its own mortality.
Enter Dembélé. Now, Dembélé almost certainly will never be the player Messi is, nor is he even likely to hit Neymar's levels—though the latter is at least conceivable. But he is a player certain to immediately steady a ship which has been rocking worryingly for a while now, while also being a near-lock to one day become one of the world's 10 or so most deadly attacking forces in a sport defined by such players. Dembélé is an entire decade younger than Messi, and thus his prime won't coincide with the Argentine's in the way that Neymar, only five years Messi's junior, saw the looming threat of having the better part of his best years eclipsed by his former teammate. In addition, Dembélé is a life-long Barcelona fan. Because of these factors, the odds of Dembélé deciding of his own volition to up and run off for greener pastures aren't as high as they were with Neymar.
Dembélé can focus now on learning from and facilitating Messi in the short-term, confident that, when he is ready, the only thing that might prevent him from picking up the mantle Messi will leave behind would be his own abilities. Having a great player like Dembélé in the fold potentially for the next decade means Barcelona will have what should be a world-class, world-renown star whose brilliance can continue illuminating the club as one of the world's premier destination teams. With that, if everything goes right, Barcelona should have protected themselves from the threat dropping down a rung or two in the worldwide soccer hierarchy.
And so Barcelona have yet another thing to thank Messi for. It was he, more than anyone else, who made the Pep Guardiola-coached squad the iconic team of its generation; he who so captured the imagination of the closest thing to a "Next Messi" the world has yet produced that a young Neymar chose to study the art of greatness alongside Messi rather than in opposition to him; he who convinced Luis Suárez to give up the freedom and adulation he'd earned for himself at Liverpool to play next to the one man better than him; he who has been so amazing for so long that a lanky French kid growing up near the Seine would put all his hopes and dreams into one day wearing the same shirt Messi did. By signing Dembélé, Barcelona have taken a big step toward ensuring that Messi's legacy survives his playing career by finally bringing in a true heir to his throne, and in the process setting up the club with a great shot at establishing their station atop soccer world for good. Messi has done more than his part. Now it's up to Dembélé and the club to make it happen.