Here's where we're stashing all of our GIFs for today's AFC and NFC divisional playoff games in Denver and San Francisco. Click through for the highlights, from Peyton Manning making many variations on that face, to Colin Kaepernick using a fake handoff to trick the Green Bay defense, score a touchdown, and ascend to the Wisconsin governorship.
Baltimore 38, Denver 35: Deep exhale. What the fuck just happened? Two weeks into the playoffs, a Super Bowl front-runner is knocked out, sent home by a team that many thought had backed into the playoffs, and which has a roster that's light on talent and creaky where it counts. In a game that hovered around 10° F, the two teams somehow racked up 872 yards of offense, and the refs, oh, lord the refs emphatically put the lie to the idea that only hastily trained replacement officials can nearly ruin everything. Nevertheless, this may well be remembered as the game of the season, in no small part because conditions conspired to make things nearly impossible for the combatants, and they somehow both prevailed against those conditions until the game's final moments. Let's figure out how we got there—but first, a treasure trove of Manningfaces, because that's surely why some of you are here.
The Manning Bobblehead Face, when things were going well:

The Manning Invisible Piano Face, when things were getting weird:

G/O Media may get a commission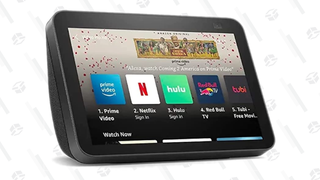 And the Manning Crushing Disappointment Face, for when the Comeback Player of the Year threw that back-breaking interception to essentially seal it:

But, we're getting ahead of ourselves. Remember five hours ago, when the Ravens had those two awful special teams plays that put them in an early hole? It looked like it was going to be a long day when Jacoby Jones muffed this catch and put his team at its own 6-yard line:

...especially because it came after Trindon Holliday's first ridiculous, motorin' run of the day, a 90-yard punt return that was set to the hamster dance theme music in our head:

Let's not forget that this was Holliday's game for a little while—his next kick return went for 23 yards, then the next one went for 31, then the next one went for, uh, 104. At that point, in the beginning of the third quarter, Holliday had personally accounted for half his team's points, and the Broncos were up by a touchdown. Also, he's 5 foot 5 inches tall. Also, that was the first time anyone's ever returned both a kick and a punt for touchdown in postseason history. Gaze upon your leader:

Sadly, it was Holliday's first loss of the season—he'd been both Houston and Denver's good luck charm this year, which makes sense, because he could conceivably fit on a bracelet.
There's a reason Holliday's runs only put the Broncos up one score, though—just when things looked truly miserable for the Ravens after their special teams derps in the first quarter, elite quarterback Joe Flacco threw this bomb to Torrey Smith, a 59-yarder that kept the game serious and gave his team a push in the right direction:
And truthfully, it was partly Peyton Manning—who's developed quite a reputation for (bad) cold weather play—that let the Ravens stick around. His numbers look OK, but he threw two interceptions that led to touchdowns, and for whatever reason (John Fox being dumb?), seemed to be on something of a leash as regulation wound down. This pick-six in the first quarter put the Ravens up seven:
Of course, none of that would have mattered were it not for the completion that lead to a thousand half-written game stories being deleted in full: Flacco to Jacoby Jones for 70 yards with 30 seconds left, on truly awful coverage from Broncos safety and current persona non grata at Denver area businesses Rahim Moore (26), who somehow managed to overshadow Champ Bailey's terrible game with one missed assignment:
When Corey Graham picked off Peyton Manning and Justin Tucker finally ended it, it seems safe to say we all felt a little like this camera operator in the blimp hovering over Candlestick Park, where another football game had nearly reached halftime before America realized what was happening: Drunk, dizzy, nauseous, and soaring above it all. The Ravens will play the winner of Texans-Patriots.
San Francisco 45, Green Bay 31: If you didn't have a chance to watch any of this one and you're just now seeing the score, the game in two words: Colin Kaepernick. It turns out Kaepernick is really good. After an early pick-six that had David Whitely coming up with all kinds of horrible theories, Kaepernick settled in and ran for the most yards by any quarterback in any NFL game, ever, by early in the fourth quarter, surpassing Michael Vick's record of 173 yards by eight. 56 of them (and a touchdown) came on this fake handoff that opened up a hole roughly the size of half the football field:
Other than that, the game included a lot of Packers' errors, most of which came when they failed to tackle Colin Kaepernick, but some of which came on special teams. Jeremy Ross muffed this punt in the second quarter; the 49ers recovered the ball and scored three plays later to tie the game:
Here's DuJaun Harris, performing a conceptual touchdown dance known as the Georgia O'Keefe after scoring in the first quarter:
And finally, David Akers, treating halftime performers roughly the way Colin Kaepernick treated the Packers defense:
The Packers defense offered less resistance, actually. The 49ers will play the winner of Seahawks-Falcons.