To the naked eye, Michael Crabtree's holdout symbolizes two things: greed and stupidity...but pure evil? SI's Michael Rosenberg reveals the twisted truth behind San Francisco's stubborn rookie.
Michael Crabtree has had an unusual NFL career so far, wouldn't you say? He was drafted in April, and since then, he has played zero games and grown two horns."
[...]
And its a bad, bad time to be a holdout in the middle of the Great Recession, with millions losing their jobs, everybody worried about health care, people starving in Africa, etc."
Nice guilt trip, Rosenberg—although I can't say the tactic is too surprising coming from the likes of you people, by which I mean sanctimonious SI columnists.
G/O Media may get a commission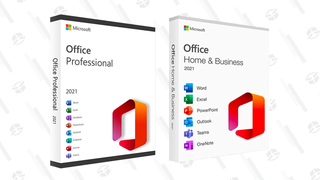 89% off
Microsoft Office Professional 2021 Lifetime License
Now that the 'gross overstatement' part of the article is out of the way, it's time for a rambling, farm-based metaphor to bring it home:
Crabtree is mostly hurting himself. For all the heat he's taken, its not like he broke a contract. He never had a contract. This is like going to the supermarket and deciding milk is overpriced, it shouldn't be more than two bucks a gallon, and everybody looks at you like you're crazy, but dammit, you've been around the block, you know how many cows live in a 20-mile radius, and this is ridiculous. And everybody else buys their groceries and you look like an idiot and you know it, but it is humiliating to finally fork over the full price."
If anybody can explain what the hell Rosenberg is talking about, please post in the comments section or shoot me an e-mail. Thank you, and enjoy the rest of your Saturday.
Try to imagine yourself in Michael Crabtree's situation. No, really [SI]