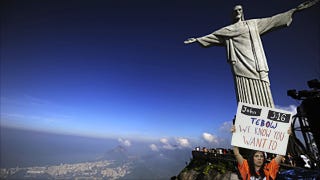 Welcome back to the NFL: West Coast Edition! Please contribute to our fun below.
NY Giants at Arizona (FOX): Patrick Peterson, the Cardinals rookie cornerback/punt returner already has an 89 yard touchdown return. Let's all keep our fingers crossed for a classic Coughlin temper tantrum following each effort from new punter, Steve Weatherford.
Atlanta at Seattle (FOX): These two teams are also in the NFL and will be playing each other Sunday afternoon. Points will likely be scored and the game will eventually end. The probability of it ending in a tie, however, is low.
Miami at San Diego (CBS): Two important and, some may say, related notes for this one: The Dolphins hope to avoid going 0-4 for the third time in the last ten years. "The Dolphins rank 30th in the NFL in total defense and passing defense, 29th in red-zone efficiency (69.2 percent) and 27th in points scored per game (17.7)." Uh oh.
New England at Oakland (CBS): As a Jets fan, let me tell you how this is going to shake out. The Pats are going to lose in ugly fashion. The offense will be out of sync and the defense will get torched (not going out on a limb there). Brady may not throw four picks again, but he'll have a bad game. This will allow people like Peter King to say next week that the Patriots haven't lost two in a row since dinosaurs roamed the Earth or something. Just in time for them to be super, super pissed off for the Jets that week. Count on it.
Denver at Green Bay (FOX): Things have got to be pretty annoying for Kyle Orton these days. Whether it's questions from the media or fans calling for his removal, he's got a lot on his mind. Based on this quote, it may be getting to him. "Yeah, I saw it. And it opened up my eyes. Life is demanding, without understanding. I saw it. You gotta realize though, in this game, no one's gonna drag you up, to get into the light where you belong. But where do you belong, you know?"
What You're Watching
Via The 506. CBS:
">
FOX: