The NFL is in the midst of a genuine offensive revolution. It's also the latest phase of an evolution, given that teams have been passing more frequently and attacking defenses with additional receivers since the early part of this decade. But this year, something's up. Way up. Scoring is off the charts. Quarterbacks across the league—even shitty ones!—are putting up stats that not too long might have have seemed impossible. Including last night's Colts-Patriots game, NFL teams are on record paces for points scored (3,092), touchdowns (351), and touchdown passes (234). But that's not all ...
What's happening is truly staggering. Per Chase Stuart of Football Perspective, Week 2 of this season was the greatest passing day in NFL history. Until it was surpassed by what happened in Week 4.
G/O Media may get a commission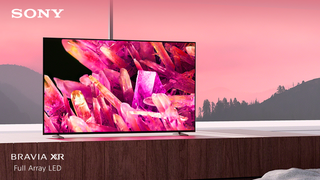 $400 off
Sony 55 Inch 4K Ultra HD TV X90K Series
Through Week 4, the league average for passer rating was 94.5. According to Football Outsiders, just eight QBs have posted a higher number in their careers. It's only been a quarter of a season, so some regression could undoubtedly be in order, as coaches get more tape to eat and defenses adjust. But the general trend of football-as-a-track-meet probably isn't going to change anytime soon. Welcome to the NFL's version of the juiced-ball era. But how did we get here? The Ringer's Danny Kelly identified several reasons. Let's break down those and a few others.
Rule changes
A cynic might argue that a league deathly afraid of declines in television ratings (even if ratings relative to everything else on TV were as strong as ever) wanted to engineer more excitement to bring the focus back to football. That cynic probably wouldn't be wrong. Fans and viewers like scoring, and the league has done its damnedest in recent years to incentivize offense.
So many of the changes have the same ultimate result, of handcuffing defenders. Back in 2014, the league placed an emphasis on illegal contact after five yards and defensive holding. Naturally, this made it much more difficult for defenders in coverage to do what they do. This past offseason, the league enacted a narrowly drawn helmet rule, only to clarify it after it led to mass confusion. But the message was sent: Pass catchers are to be given added protection. And after an injury put one of the game's premier stars, Packers QB Aaron Rodgers, out for much of 2017, the NFL made landing on the quarterback a point of emphasis, albeit by slightly changing the rule itself so as to significantly affect the rule's meaning. This has likewise forced pass rushers to re-think how to do their jobs.
"The game is becoming far less physical, and the intimidation factor is gone," Monday Night Football analyst Booger McFarland said, per NBC's Peter King. "The quarterbacks know they can get hit, but not really hit like they used to."
Cumulatively, these rules have encouraged offenses to be bolder by throwing the ball more and more ... and more. Last night was already the 12th game in which a QB has thrown at least 50 passes this season—something that happened just 15 times all of last year.
As 49ers cornerback Richard Sherman told reporters during an extended rant about how badly defenders' hands are tied, "This is what the league wanted."
The role of running backs
According to additional calculations by Football Perspective's Stuart, through Week 4 teams were running the ball on just 39.3 percent of all plays, which is on pace to be the lowest run-pass ratio in league history.
The devaluation of running backs during this pass-happy decade has been a constant topic of discussion. But as the contract Todd Gurley got from the Rams and Le'Veon Bell's continued absence from the Steelers proves, the position and its valuation are evolving right along with these passing trends. Running backs are no longer expected to be plodding workhorses who carry the ball 25 times a game and come off the field on third down. In these wide-open times, rather, versatility is in order, with backs functioning as effectively positionless players capable of catching passes all over the field and lining up all over the formation. Another trend is the use of multiple backs for different situations, and the deployment of two pass-catching backs at once; according to Warren Sharp's data, teams use two backs simultaneously just 11 percent of the time. But the 49ers (45 percent) and the Patriots (42 percent) do it far more frequently, with either one or two tight ends. And former longtime Pats assistant Pepper Johnson recently told me that playing against a two-back alignment is something that has long scared the hell out of Bill Belichick.
Using two backs or two tight ends gives offenses the added flexibility of being able to run the ball or to max protect, depending on the look the defense gives them, in addition to creating mismatches in the passing game. And this year, there's been greater efficiency in these personnel groupings: "11" personnel (one back, one tight end, and three receivers) was still being used 63 percent of the time through Week 4. According to Sharp, offenses have a 46 percent success rate and average 6.8 yards per attempt out of "11." But out of "12" (one back, two TEs, two WRs), that success rate is 53 percent, with 7.7 YPA. Out of "21" (two backs, one TE, two WRs), it's 53 percent and 8.3 YPA.
Running backs are seeing more volume in the passing game this year, too. In 2016, per Pro Football Focus, no back was targeted more than 25 times during the first four weeks. In 2017, no back was targeted more than 30 times in that span. This year, three backs had more than 30 targets by Week 4, and James White of the Pats and Nyheim Hines of the Colts brought that number to five after last night. And White has been deployed either in the slot or out wide on 25.2 percent of his offensive snaps. Also, per PFF, Rams QB Jared Goff has used play-action on a whopping 39.7 percent of his dropbacks this year, and 11 QBs have used play-action at least 25 percent of the time. As recently as 2016, just one QB had play-faked that frequently. Running the ball still has its place—especially in short yardage on third or fourth down—but the more creative offenses are establishing the pass to set up the run, rather than the other way around.
Quality young quarterbacks
After a fallow period in which QBs taken at the top of the draft didn't pan out, the league has seen an influx of young arms at the top of the draft who are suited to playing modern football. As The Ringer's Kelly noted, Goff, Carson Wentz, Dak Prescott, Patrick Mahomes, Deshaun Watson, Mitch Trubisky, and four of the QBs taken in this year's first round (plus Josh Allen? Maybe?) all fit that bill. Returns to health for Rodgers, Luck, and (obviously to a lesser extent) the Dolphins' Ryan Tannehill have also helped.
Aggressiveness

How bold are teams willing to be? They're increasingly less fearful of the risks associated with going for it on fourth down, as Titans head coach Mike Vrabel and Colts head coach Frank Reich were last weekend (with mixed success).
Last season, over the first four weeks, teams elected to go for it (or try a fake) on fourth down and three yards or fewer just 22.3 percent of the time. This year, that number is 27.0 percent, which is back in line with where it was (27.2 percent) in 2016.
Another major indicator is what's happening on first down, where it's much more efficient to throw the ball rather than run. Per Warren Sharp, teams were only throwing the ball on first down 48.8 percent of the time from 2015 to 2017, or right around what teams were doing back in the dark ages of 2000 to 2002. Last year, per Sharp, teams that passed on first down had a 51 percent success rate. This year, including last night's Colts-Pats game, teams are passing on first down 51.8 percent of the time, with a 53 percent success rate.
The schemes
In the early weeks of last season, the NFL's product looked downright ugly, and there was no shortage of explanations for it. New work rules that mandated less offseason practice time. Not enough preseason reps for starters, mostly due to injury concerns. An influx of young quarterbacks and offensive linemen who had trouble adapting from the spread systems so prevalent at the lower levels. Defenses that countered by using nickel- and dime-coverage packages with greater frequency. Scoring in 2017 actually ended up being lower than in any season since 2009. But the offensive revolution was really only starting to percolate.
Last year was when Andy Reid's Chiefs, Sean McVay's Rams, and Doug Pederson's Eagles began rocking the league with an array of college-like concepts. For years, the increased use of short, quick throws has been a way to maximize efficiency in the NFL. But by using lots of motion, play-action, and run-pass options; by positioning pass catchers all over the formation; and by emphasizing spacing and working the field horizontally, smart coaches found inventive ways to pressure defenses. This year, Matt Nagy (Reid's former offensive coordinator) has brought a similarly innovative approach to the Bears, and Baker Mayfield's skill set with the Browns is tailor-made for this sort of system.
If the youth, high school, and college levels keep producing players who were comfortable in wide-open schemes, the thinking goes, why not adapt to them, rather than the other way around? This was heresy in a risk-averse league long predicated on power, defensive speed, and protecting quarterbacks. But then the Eagles beat the Patriots in a Super Bowl that looked like a Big 12 game, and the future had arrived. The Ringer's Kevin Clark has already declared an end to the scheme wars.
How does it all work? Watch how the Rams used a route combo called four vert on a touchdown against the Vikings. Four vert is exactly what's its name implies: four pass catchers running vertical routes upfield simultaneously. It's become increasingly common in college playbooks. But look at what else the Rams do here. They break the huddle in a standard two-receiver, one tight end look, with two running backs in the I-formation. Except the "fullback" is actually tight end Gerald Everett. And before the Rams get set, they motion running back Todd Gurley out wide to the left and Everett out to the right. They also have tight end Tyler Higbee switch from the left side of the line to the right. The Vikings are forced to adjust their linebackers, with Anthony Barr moving over to match up against wideout Robert Woods in the slot—exactly the kind of mismatch this sort of play is designed to create. Once Woods gets a step on Barr, it's an easy touchdown:
Notice, too, that Everett ran a quick drag route across the middle, drawing two Vikings defenders toward him—and keeping an additional linebacker away from Woods.
McVay gets the most out of Gurley—last season's offensive player of the year—by using him as a frequent pass catcher. But, again, it's the play design that gets Gurley free to roam in space. Here the Rams use a jet-sweep motion toward the right side of the formation just before the ball is snapped. It's a decoy that draws two defenders in that direction as two receivers run a mesh route in the middle of the field. The result? Look at all that green grass in front of Gurley after he catches this ball!
This one's another great example of the Rams' spacing. Pre-snap, they've got three receivers to the left, including Brandin Cooks in an H-back position adjacent to and just behind the left tackle, but also near wideout Cooper Kupp, who's in the slot. Gurley is lined up out wide to the right. Cooks feints going in motion, and then Gurley breaks toward the snap on a jet-sweep:
Goff fakes a handoff to Gurley and rolls right, where he has four receivers to choose from, spread out all over the field. The Vikings are sitting with a high safety deep down the middle, but Cooks runs a drag route at the line of scrimmage that gets cornerback Trae Waynes to hesitate for a moment, which leaves a window for Goff to deliver the ball to Kupp in the end zone. It's enough:
Here's another angle in which Waynes's hesitation is a bit more obvious. He momentarily can't decide whether to break toward Cooks or to stay with Kupp. By the time he chooses Kupp, it's too late.
These kinds of plays take advantage of Goff's pinpoint accuracy, an essential attribute for quarterbacks playing in college spread systems, where timing and tempo can be more valuable than having a big arm. But look at this:
Clearly, the schematic innovations (and the rule changes) are indeed working to give offenses every advantage. Pass rushers are discouraged from hitting and defensive backs are discouraged from contact, QBs have more time to throw, more potential targets, and more open targets. Just what the NFL wanted.