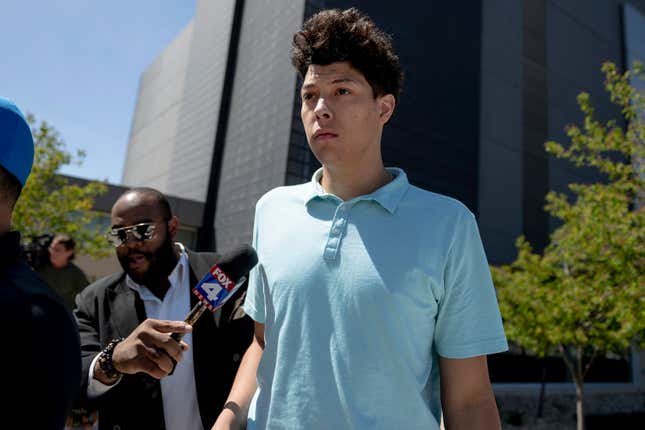 If there's someone associated with turning their meal-ticket fame into bad decisions, it's Jackson Mahomes. And a week after the 22-year-old thinks-he's-a-social-media-influencer and younger brother of Kansas City Chiefs quarterback Patrick Mahomes was arrested on aggravated sexual battery and a misdemeanor count of battery, the TikTok dancer has asked a Johnson County (Kan.) to modify his bond in the case brought against him. The change would allow the younger Mahomes to contact several witnesses he knows, according to a report from the Kansas City Star. 

Jackson Mahomes gives Antonio Brown a run for his money | Worst of the Week
Mahomes is out on bond, with one of the conditions of his release being no contact with the alleged victims and witnesses. According to the report, the non-Super-Bowl-champion Mahomes is seeking contact with four people involved in the matter on the amended condition that he's allowed to speak with them, but not about the case. The motion states: "Communicating with these witnesses serves no purpose other than to further isolate" the 22-year-old while the case is still ongoing, per The Star. The motion also mentions that no contact would hamper law enforcement in getting the defendants to cooperate.

Overland Park (Kan.) police confirmed to KCTV that the charges are a result of assault accusations from the owner of Aspens Restaurant and Lounge in Overland Park, Kansas, and one of its employees. The Kansas City Star reported that Mahomes allegedly shoved a 19-year-old male waiter — who declined to give his name — more than once, and later forcibly kissed the 40-year-old female owner, Aspen Vaughn, who provided video of the alleged incident to the paper. Jackson Mahomes was scheduled to appear in court via Zoom Thursday morning. Mahomes' attorney, Brandan Davies, did not provide comment on the incident to The Star.