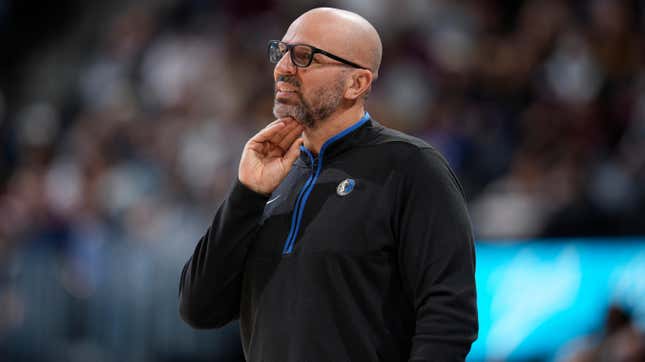 There's a phenomenon, a quirk, a thing that happens every so often with coaches, a subtle or sometimes overt change, that I believe tips their hand to whether they've quiet quit on the job. When a skipper knows his time at a stop is coming to an end, he'll change his attire. It can be as obvious as Nathaniel Hackett transforming from a bright-eyed rookie head coach to a Stone Cold Steve Austin doppelganger, or as innocuous as changing your glasses. And I think it's happening with Jason Kidd right now.
Kevin Alves from Yellowjackets wants to be Kawhi Leonard | Ultimate Sports Fantasy
(I fully acknowledge that this idea is probably totally off-base/a theory that only the Jan. 6 rioters would believe, but it's a lot more interesting than another update on the state of Luka Dončić and the Mavs.)
At the start of the season with the Dallas Mavericks, Kidd wore these translucent frames, and has since switched to a dark black pair. He no longer cares if his athleisure tops and bottoms are the same hue of Dallas blue. Even his comments (more on this later) sound like someone who's ready to embrace the couch for a few months. You know, maybe catch up on Succession, with a bag of Cool Ranch Doritos at arm's reach, and a handful of ZipRecruiter tabs percolating.
A history of coaches waving the white flag via their wardrobe
The first time I noticed this happening was way before recessions spurred millennials to turn the phrase "quiet quitting." In the waning weeks of Bill Callahan's misguided tenure at Nebraska, the coach of the Cornhuskers stopped wearing red. Every news conference was a parade of gray and beige sweaters until he was mercifully relieved of his position.
The reason why this is an oddity, or not something fans readily notice, is by the time the coach has given up, so too has the fanbase and front office. The man with the play sheet is a dead man walking, and now he's dressing like it.
Look at this picture of Hackett from early in the season with the Denver Broncos, before Russell Wilson ruined his life with catchphrases and errant passes.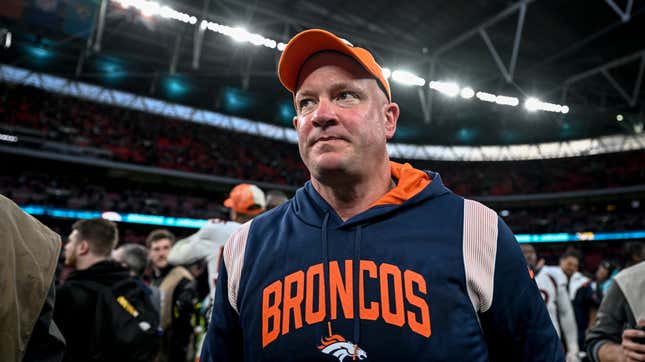 That's the look of a guy who really believes things are going to turn around with hard work and a can-do attitude. Now, here's late-phase Hackett. (WHAT?)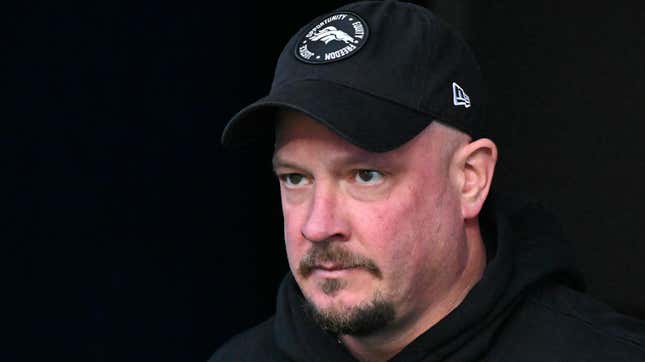 My god, Sturgis isn't for another five months. Does the WWE do a cosplay convention? Most importantly, where did you get that sweet chain wallet? By this time, everyone, including Hackett, knew he was gone, and we're nearing that point in Dallas if things continue to be mediocre post-Kyrie Irving trade.

Alright, here's J-Kidd in October/November.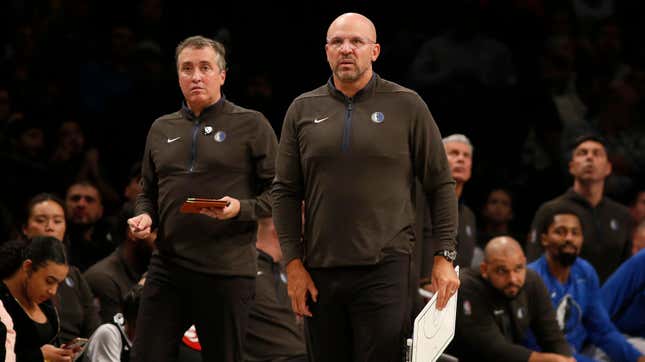 He doesn't always wear specs, but when he did, they were unassuming and non-threatening. Those of a helpful librarian. He's recently pivoted to thick, dark frames. Ones your spouse wears when they're either getting ready for bed, or in a mood.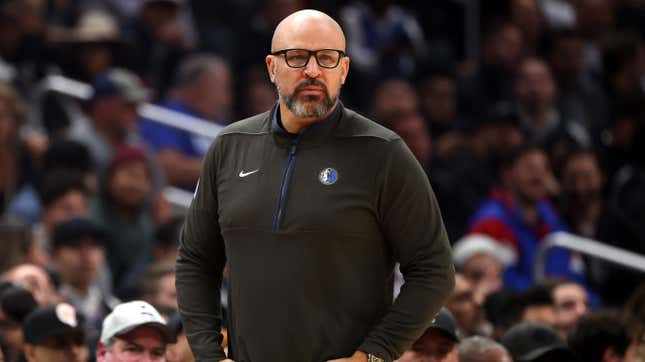 While Kidd still looks like an educator, I get the vibe he's fervently feeding the first few paragraphs of essay submissions into Google searching for plagiarism. (Not because he doesn't trust the students, but because he doesn't believe they're better writers than him.)

On Tuesday, during a spiel about team health, Kidd said Dallas could make the playoffs with better injury luck, "And if not, that's just the season. No one's dying." Then why are you dressing for a funeral, and eulogizing the year/your coaching career?
In the end, poor coaching will be the reason Kidd gets fired, and not how often he opts for give-ups and angry glasses, but I found this development interesting, and worthy of a few hundred internet words.
---
For more traditional reporting on the Dallas Mavericks, visit Deadspin's Mavericks team page that's only partially AI-generated content.