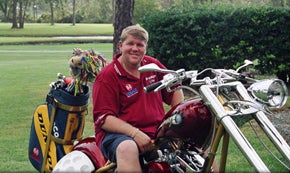 We knew that there had to be more to this story ... come on, it's John Daly. And he didn't let us down. apparently.
John Daly assaulted his wife and then covered up the incident by scratching his own face and claiming she attacked him, Sherrie Daly alleges in court papers filed Monday and obtained by The Commercial Appeal. In the documents, Sherrie Daly said her husband was drinking heavily on Thursday, the night before he called police, and "spun out of control," verbally assaulting a security guard and breaking the security gate at their home.
We find it shocking that anyone would claim that Daly "was drinking heavily," causing him to "spin out of control." So unlike him. And so unlike her to cause a ruckus of any kind. This is how we see the scene in question going down:
John Daly arrives home, sits at table. Sherrie Daly arrives a couple of minutes later. They both look at menus. Suspicious man sits down nearby at counter. Meadow has trouble parallel parking. Screen goes to black.
Daly's Wife Accuses Golfer Of Sexual Assault [MSNBC]
John Daly's Wife Sent to Prison. He Has A Wife? [The Sports Pulse]
About John Daly's Stabby Wife [Deadspin]