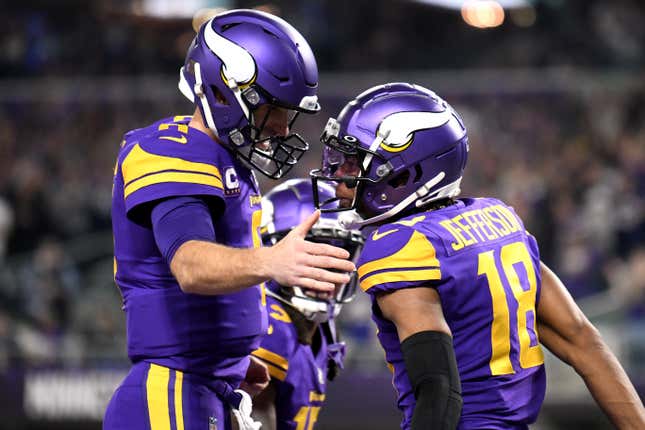 The internet is a place that constantly gets people into trouble, especially when social media is involved. Whenever athletes want to be honest or "keep it real," they usually do so on some social platform. Minnesota Vikings wide receiver Justin Jefferson did not hold back when asked to rank his top 5 current NFL quarterbacks in an interview. Here is Jefferson's list:
Black Quarterbacks = Big NFL Ratings | The SEO Show
1. Patrick Mahomes
2. Aaron Rodgers
3. Joe Burrow
4. Jalen Hurts
5. Josh Allen
Obviously, there was no mention of his own QB, Kirk Cousins. Jefferson rattled off those names without much hesitation. This is clearly something he's thought about and probably discussed with someone recently. Cousins is the Rodney Dangerfield of the NFL. The man gets little to no respect from everyone, including his teammates.
Let's not get it twisted, no one's saying Cousins is a top 5 NFL QB, but many times when asked this type of question, the player will throw their teammate a bone as a sign of encouragement, solidarity, or just having their back, even if it sounds absurd. Jefferson led the NFL in catches (128) and receiving yards (1,809) last season. Cousins was the guy launching the ball his way in all 17 games last year.
Everyone loves to downgrade Cousins, but he deserves a little credit for getting the ball to Jefferson. This isn't about Cousins being ranked higher because he isn't a top 5 QB, and for most, he's not even top 10 in the league. That's a bad look when you can't even get your teammate to prop you up. Realistically Cousins is probably somewhere between 10-15 among NFL QBs, but J.J. could've helped his guy out with an honorable mention, at least.