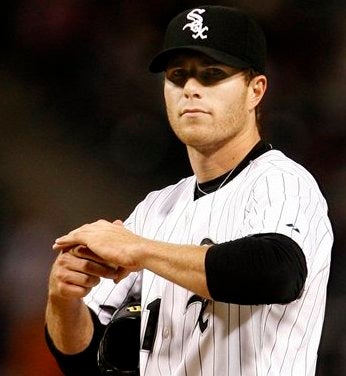 Major league journeymen sure are punchy this offseason. Former White Sox/Met and current Blue Jay minor leaguer Lance Broadway is being sued for rearranging a man's face at a New Year's Eve party in Dallas. While shirtless, of course.
See if this (alleged) story sounds familiar. Broadway and a friend are at a club. The friend—Cameron McGuire, who plays "United League Baseball" if that even exists—hits on someone else's girl. Words are exchanged with another gentleman. Broadway is not satisfied. So he (naturally) removes his shirt, "takes a running start" and punches 25-year-old Ivan Pinney in the face, breaking his orbital socket, cheekbone, nose, and detaches his retina.
To be fair, it's not clear if it was Broadway's flying punch that did all that damage or if some of it might be because McGuire kicked the dude in the head after he went down. Either way, the gruesome hospital pictures prove that Pinney's injuries are all too real.
Oh, and he was not the only victim of Broadway's wrath. Pinney's lawyer claims that in the ensuing brawl, Lance "punched several women, knocking one out." Not bad, when you consider that Broadway only punched out nine batters all of last season. I think these pro ball players need better friends and relatives.
Woodlands Man Sues After Former Major-Leaguer (Allegedly) Assaults Himls [Houston News]
Earlier: The Backup Catcher, The NBA Journeyman's Wife, And The Gropey Grandpa
[Photo: AP file]