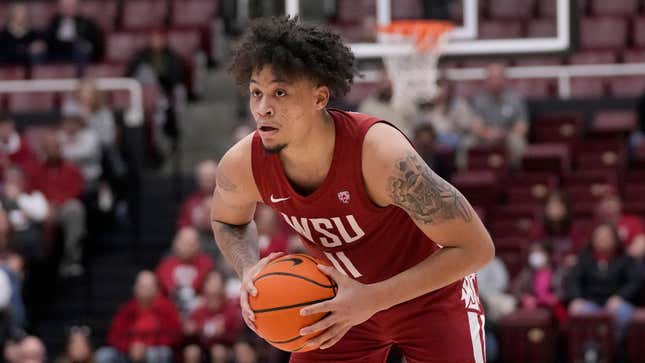 During halftime of the 2022 NBA All-Star Game in Cleveland, there was an infamous moment that occurred on stage as the league was celebrating the players who made the NBA 75 list. Cameras caught LeBron James, Chris Paul, Carmelo Anthony, Steph Curry, Ray Allen, and Dwyane Wade getting together to take a photo — as they represented some of the greatest players of their era. And then Dennis Rodman threw off his commemorative jacket and jumped into the photo, visibly ruffling some feathers.
Who will be the NBA Finals MVP? | The Weigh In
Well, now James and Rodman will be spending a lot more time together.
Days after Bronny James announced that he was headed to play his college ball at the University of Southern California, DJ Rodman — Dennis' son — posted on Instagram that he was transferring from Washington State and also headed to USC.

While TV and movie writers are rightfully on strike, a Hollywood script is writing itself inside of Andy Enfield's program

The Trojans won't just be the Bronny and DJ show
Besides Bronny James — who more than likely will come off the bench — USC also has freshmen Isaiah Collier and Arrinten Page coming in, who are the No. 1 and No. 38 ranked recruits — respectively — according to ESPN. Boogie Ellis will also be back, as he averaged almost 18 points per game last season. Rodman started in 30 of the 31 games he appeared in last season at Washington State and averaged 9.6 points and 5.8 rebounds.
USC went 22-11 last year and lost in the First Round of the NCAA Tournament when they were defeated by Michigan State 72-62.

If you're in Los Angeles during basketball season, USC might be the place to catch a game. You never know whose dad might show up.